As its name implies, this company is more than a trampoline manufacturer. Moreover, it specializes in toys for kids, meaning that all the trampolines they make are for kids in the first place. And one of the best in that field. Must be the experience in working with children for more than 10 years.
The Original Toy Company Fold & Go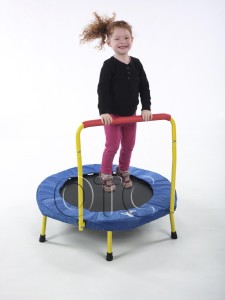 This is my number one pick as the best trampoline for toddlers for several reasons. So let's talk safety first! This little one has 6 instead of standard 4 legs which provide for more stable construction. There are no springs here – they are replaced with series of heavy-duty elastic straps, which makes it even safer. These are more durable than traditional bungee cords, so they are a great alternative to springs. Also, the side is padded for obvious reasons: so that your kid can be inside the circle of jumping and stay out of potential trouble.
It is able to support up to 150 pounds so that a mommy can jump with her kid as well. It is lightweight and can be folded, as its name implies, to a really small space – and unfolding is as simple as one two three – you just have to screw the legs on and put the handle. That's it!
Now, as you can notice, the handle is only on the one side. This makes it easier for bigger kids (50 pounds+) to make the back legs might lift off a little if they jump high. No one I know reported that their kid actually turned the trampoline over, but it is worth mentioning as this can be considered a flaw. So, when your kid gets heavier, you should consider attaching dumbells on the back legs, just to make sure everything is in order.
It is 36″ in diameter, elastic enough to make your kid happy but not enough to make it fly and potentially hurt itself.
That is all there is to know about this one – and it is my favorite for the apparent reasons – it's safe, durable, light and my wife could jump with kids. Splendid!
Click here to view this Fold & Go on Amazon!