There are a couple of things to consider when talking about Skywalker Trampolines. First of all, they tend to give the best value for the money. Secondly, all of the trampolines with enclosure have a so-called button-hole system, which simply means that the enclosure is attached directly on the jumping mat so the risk of falling out or pinching yourselves on the springs is minimized. They all follow the industry standard of making everything out of rust-resistant, galvanized steel, so you won't be worried about leaving your trampoline outside. Really, they are a terrific start and a great value; what more can you ask for?
Skywalker Trampolines 60 In. Round Seaside Adventure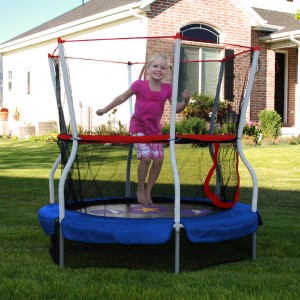 This one looks really neat, right? We started with this one for my kids. It is perfect in some ways, while still imperfect in other. So let's talk safety first as it is the most important thing when it comes to little children: there is a net enclosing the whole trampoline; the net is gap-free, so there is no chance that your little one might go under it and hurt himself/herself. Also, there is a 360-degree handle around the inside perimeter so kids can hold onto it while getting adapted to this trampoline. And it might just help them build confidence in their ability to jump thus preparing them better for the challenges that lie up ahead (I'm talking about adulthood)!
This one comes without springs, as springs pose a pinching hazard, so they come with bungee cords instead. The only downfall of this is that cords tend to break sooner than springs – usually in 3 years from my experience – but it still provides a lot of fun for all that time. It is also a little complicated to assemble, but not too much – it's just that the instructions are not really good. Also, it's not meant to be disassembled; that simply means that disassembly is hard and that you shouldn't rely on doing that every day.
It is a joyous 60″ source of fun for everybody on it. It is meant to serve as a trampoline for ages 3-7, but as the weight limit is the important factor here (100 pounds), as long as your kid fits into that category it will be fine and happy. Although bigger kids, even if they fit into the weight category, tend to be bored by this little one, so you should probably consider buying a bigger one.
You might want to put more than one kid on this, but I wouldn't suggest that as the possibility for them getting hurt grows.
All in all, this is a great one, my kids enjoyed it, and it isn't expensive – it comes at around $80.
Click here to view Skywalker Round Seaside Adventure on Amazon!
Skywalker 8-Feet Round Trampoline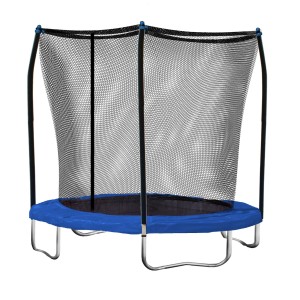 Skywalker trampolines usually are gold – they offer the best value for the money, they fit into the budget and they have some pretty important basic safety measures. This one comes with a safety enclosure and safety pad. The net connects directly to the mat, which is Skywalker exclusive, so nobody will be able to pinch themselves on springs.
It supports up to 175 pounds of bouncers, so it should be enough for two kids as long as they fit into that weight limit. Of course, the weight limit is there for your safety.
This one isn't really high so you won't need a ladder for it. It isn't foldable, which means it is meant to be assembled and left like that. Ok, of course, you can disassemble it, but it is a rather long process, so you'll probably want to leave it be for most of the time. Now, the assembly isn't really that hard, a friend of mine did it all by herself while she was pregnant, although it wouldn't hurt if you have somebody to help you. It isn't a two-man job as bigger trampolines are, but it still helps.
If your wish is to take this indoors, your wish can be granted. If you can fit it, of course. The only thing I'd suggest is that you wrap some paddings (pick your best) around the legs in order to not damage the floor. Don't say I didn't warn you!
All in all, a decent trampoline, not for a really high bounce, indoors friendly, unfoldable, budget-friendly. I loved this one while we had it!
Click here to view Skywalker 8ft round trampoline on Amazon!
Skywalker 10ft with enclosure
This one is my favorite 10ft Skywalker for a couple of obvious reasons, first of all being its weight limit. On the box, it says that it is 175 pounds max and although I tend to take these precautions very seriously, I managed to find out that it can hold about 200 pounds. I wouldn't go above it. Although everything above 175 is at your own risk (mandatory disclaimer).
It is a really solid and stable thing, rust-resistant frame and 64 rust-resistant springs and everything you need to make a trampoline work – classical Skywalker thing. Rust-resistant also means that it is made to last in your backyard as well.
The safety net is attached directly to the jumping mat, which is a bonus safety feature (a standard Skywalker if you ask me, they always deliver a lot for their price point). Also, it isn't really tall, so you won't be needing any ladders for this one. That is reserved only for the bigger trampolines.
Instructions for the assembly are a little unclear and a bit confusing, so I suggest reading all of them first before starting the assembly process. Also, I recommend taking two persons for this job because at some points you will need an extra hand.
It is exactly 10ft in diameter, which makes around 8.5ft of jumping mat space and the rest are springs and the frame. This is obviously important when you're dealing with a small space.
If 10ft is what you're after and Skywalker is your favorite, go with this one. Of course, this isn't the only 10ft trampoline they made, but it surely is the best, which is why I don't really talk about others.
Click here to view Skywalker 10ft on Amazon!
Skywalker 12ft with enclosure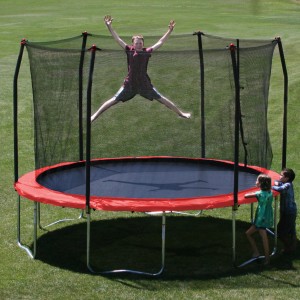 First of all, let's talk about the prime feature of all the Skywalker trampolines with enclosure: the enclosure is attached with patented buttonhole system, which provides for more safety because it attaches directly to the end of the mat, making it impossible to hit a spring and somehow pinch or hurt yourself. Also, it avoids ropes which most of the other enclosures use, which makes it even better – and neater.
All of the materials on this one are UV resistant, meaning you can leave outdoors, in the sun, and everything will last the way it should, without a lot of damage (I'd like to say without any damage, but it is still prone to weather conditions). Also, the frame and the springs (72 of them) are rust-resistant.
This one comes in a variety of colors: red, purple, green, black, blue… And price varies from color to color and that is just based on color (red one doesn't have anything extra that green one doesn't have)! If you ask me, that's absurd, I'd just buy the cheapest one. After all, it will be in the backyard, so you don't need to match it with interior design and stuff.
Assembly tends to be complicated as with most of the trampolines. It isn't hard, it doesn't require muscle, but it is time-consuming. I suggest you make a buffer of a couple of hours and you have a helping hand; helping hand makes assembly so much easier.
It comes in two heavy boxes. The customer service of Skywalker is outstanding: they respond in no time at all and are willing to meet you halfway in everything, even offering things free of charge when you're out of warranty or it is your fault that something happened. We always had a wonderful time with them, and so did a lot of our friends and people on Amazon.
This one is really durable during winter and if you live in a harsh environment you might want to consider buying a trampoline cover, just to make sure it lasts a long time and for the years to come.
A really good looking trampoline, with a lot to offer. It gives the feeling of sturdiness and safety just by looking at it. Definitely, a recommendation if 12ft in diameter is what you're after! You'll never go wrong with Skywalker!
Click here to view Skywalker 12ft with the enclosure on Amazon!
Skywalker 14ft square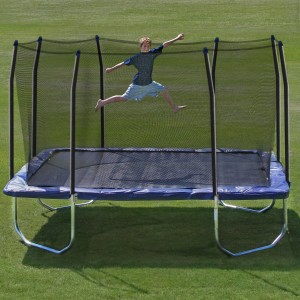 The next one on my plate for a review is Skywalker's 14ft square trampoline. Of course, it comes with the usual things: pad and enclosure, for your safety. As with any other Skywalker, the safety enclosure is attached via the buttonhole mechanism on the inside of the mat, so you won't be able to pinch yourselves on the springs in case a safety pad moves. This has another advantage: some of the enclosures use ropes to tie to the frame, which this clearly avoids. So that's a bonus.
It is made of steel, both frame, and springs, and all of them are rust-resistant. Mat, enclosure, and safety pad are all UV resistant and all of this makes this trampoline very durable under outdoors conditions! This is a first square trampoline I reviewed and I must say that it looks dazzling to me, although it isn't olympic-like square (I mean its more of a rounded square), it looks way better than regular, round one.
My cousin has this and he says that it's ideal to practice flips on it. Also, he says that the enclosure is really good and that it can stop a fully grown adult from breaking through at full speed, which is marvelous.
It is easy to assemble, but the instructions are very unclear, so you might want to read them first, then proceed to assembling with somebody to help you (I suggest at least two people for the job).
It supports 250 pounds of weight at once, but you could probably stretch that to 300. Just be careful!
Also, I'd suggest buying some ladders, they can help with you getting on the mat.
This is a really good trampoline, with a lot of features, big jumping space, good bounce and quality safety features.
Click here to view Skywalker 14ft square on Amazon!
Skywalker 17ft oval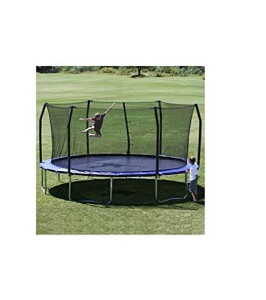 This is the biggest trampoline I'm making a review of, with the exception of olympic ones – but they are a completely different category. So, 17ft. Exciting, isn't it? Actually, since it's oval, it's actual dimensions are 17ft by 15ft.
Now, this is a strange trampoline. Since it's big, they probably couldn't make it really "weight-resistant", so to speak. Its weight limit is 200 pounds and I wouldn't go more than that. That makes it the greatest personal toy available, but it is almost impossible to have more than two persons at the same time. That makes me sad when you have something this big.
But it can still be a great thing! It comes in a variety of colors and has some of the usual features: UV resistant mat, enclosure, and safety pad, rust-resistant frame, and springs which makes it ideal for outdoor usage (and where else would you fit a 17x15ft ?!). The enclosure is attached by a buttonhole patent directly to the edge of the mat, which makes it safe and avoids the use of ropes some enclosures use.
One really neat feature is the anti-slipping mat. It is made of a somewhat different material than all the other mats, so you can really rely on its safety measures and know you won't be able to get hurt if you specifically don't try to.
If you take care of it, it can last really long, so I suggest buying the cover for winter.
As for the assembly, the instructions are pretty weak. I don't know how they missed it so much, but they are actually sending generic instructions for round trampolines and oval is really different. So be careful, read it carefully, notice where you need to change something and proceed slowly. A friend of mine said it took him 6 hours for him and his son and that they made a mistake halfway which made them go back all the way as they didn't notice the mistake soon enough.
If the size is what you're after and you're not planning on getting a lot of people in your backyard, this one might be ideal for you.
Click here to view Skywalker 17ft oval on Amazon!