Pure Fun is an American manufacturer based in Texas and they build a solid portfolio of trampolines and some other backyard toys, usually for kids. Now, that doesn't mean that adults can't use them, of course. Their trampolines are durable and offer good value for your money, so they are definitely worth a shot. Check it out below!
Pure Fun 8ft Trampoline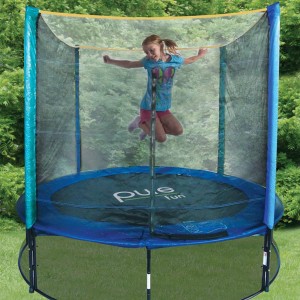 As I've said, Skywalker has some decent safety measures taken. But if you need more than that, maybe you'd like to consider buying this one. Pure Fun really made this one a solid choice, but it comes at a little bigger price tag.
The frame is made with strong iron tubing and it has 8 balance points – which provides for better stability of the whole trampoline. Safety enclosure includes sewn-in elastic straps so that it not only protects you or your kids, but it also provides more fun. The padding over the springs is of really good quality so you don't have to worry about pinching.
It is really easy to assemble. Almost as easy as the last one. Still, I'd recommend two persons for the job (and some buffer time, around an hour or two).
Take this into account – poles which carry safety net are a little weak. All my friend who bought this had this problem. I know you'd like everything to work once you pay for it, but nothing is perfect. Luckily, there is an easy solution for this – simply buy PVC tubes and put them instead of the poles you got with your trampoline. It's that easy.
It supports up to 175 pounds at once. Steel springs are of a much higher quality, so they provide a lot more bouncing potential than the other trampolines in this category.
So it is meant to be a source of pure fun, as the name of the company implies, and it is also as safe as a trampoline with springs can be. Just watch for those poles and you'll be fine – and ready to let your kids play for the years to come.
Click here to view Pure Fun 8ft on Amazon!
Pure Fun 14ft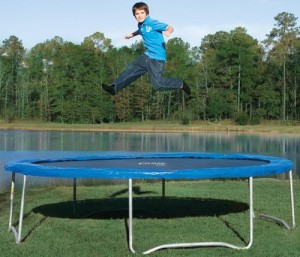 It is 14ft in diameter! And it has a low price tag. Talk about good value… Now, while it certainly is big, it comes without safety net so you'll have to be careful (or, you know, just buy the net separately). It supports up to 250 pounds, which is really decent.
Now for the fun part: it has 88 rust-resistant steel springs which allow really good bounce. Alas, some friends told me that they don't last that very long, so you might take that into account before deciding on this one. Also, it comes with a two-year warranty, so you won't need to worry about that one.
The padding over the springs is of good quality, so no pinching is available, sorry.
The best thing is that it is really easy to assemble it – one of the easiest assemblies of all the trampolines I came across. It took my friend about 35 minutes for him and 13 years old son. And you won't need any extra tools as everything you need comes in a box. One box, although heavy, but not too much.
It is quite a good trampoline, especially for its money. If you want a bigger one but not to spend too much money, this one should be your default choice. You won't be disappointed!
Click here to view Pure Fun 14ft on Amazon!
Pure Fun 15ft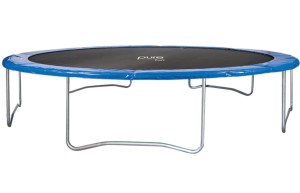 So, this one has 5 legs and 8 balance points, which means your trampoline won't shake when you jump, rather it will stand firm and tall and you won't be able to tip it over.
But, as safe as it is when it stands, bear in mind that it comes without a safety enclosure. If that bothers you, you can buy safety enclosure and attach it, although the recommended enclosure won't fit perfectly (as it would when you get a trampoline with enclosure).
As usual, the mat and safety pads are UV resistant, frame and springs (100 springs! WOW) are rust resistant, so it is durable and made for outdoor use. Also, as its name implies, it is 15ft in diameter.
Now, this one isn't for beginners for two simple reasons: the first is that there is no safety net, which could be a safety concern if you're a beginner, and the second reason is that it provides a very, very good bounce. You can jump really high on this one, trust me. And since there is a good bounce and no safety net, it makes you learn everything faster – if that is your goal, that is.
Now, it comes with a 250 pounds max weight on it, but my neighbors say that it can hold up to 300 pounds. You can trust them, they had this one for 5 years. Oh, while we're at it, it is that durable.
Some people say that the safety pad looks cheap. I say that they can change it if they want to, but as far as I'm concerned, the main thing is the function and it serves its purpose (safety) pretty well.
Assembly is easy, instructions are really clear and as with others: you'd probably want to buffer a couple of hours and arrange for a helping hand because this is definitely a two person job.
Click here to view Pure Fun 15ft on Amazon!