With JumpSport you know where you're headed to. It's perfect quality! That's it. These got you covered in almost everything: they're durable, fun, great bouncing, professional-grade, safe and secure… It's almost as if they don't have a downside. Well, that comes at a price, so they tend to be more expensive than Skywalker for example, but they are surely worth the money. I own JumpSport trampoline and I've never disappointed in them. Give them a try, you won't regret it and you won't go for anything else later!
JumpSport Elite 14ft with enclosure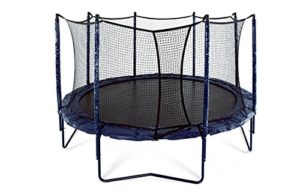 This one is a little pricey. It is the first trampoline I had to plan for months. But stay here with me because this thing changed my life completely!
Let's start with minor details: it comes in navy blue and black colors, looks very strong and sturdy. It has a UV resistant mat and enclosure, along with the strong, rust-resistant frame and rust-resistant springs. Okay, but a lot of trampolines have these; what's so special with this one, you might ask?
Well, would you mind me telling you that this has a 15 years warranty on its frame? I know that really caught my attention. I'm used to products which break a few days after the warranty expires. But for this one, even if it is the case, that still 15 years! And if you plan on using it that whole time and you try to finance yourself like a bank, you'll realize that then it'll cost you around 10$ a month, which is really insane!
Ok, but apart from that, this is the most amazing thing: it supports up to 800 pounds. What? You're excited as I am? 800 pounds at once! And they say no more than 240 per person. Ok, that is acceptable for me. But that means I can have my friends over for a party in the backyard!
Onward, it doesn't come with ladders, but I highly suggest you buy them as well. The enclosure is attached from the inside, so that makes it for better security. And you can have a really high bounce!
In fact, I have this one in my backyard. I used to practice my gymnastics moves on it. It is that spacious and that good. Try it for yourself!
Oh, and one more thing – the assembly was really easy. The only thing that was something I considered carefully with this one was the price. If you can afford it, go for it! I promise you won't be disappointed!
Click here to view JumpSport elite 14ft on Amazon!
JumpSport 10′ x 17′ with safety enclosure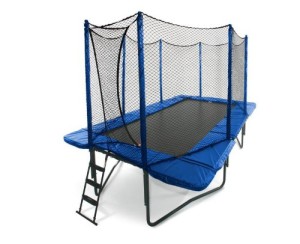 This is probably the greatest trampoline there is that is available for your backyard. Why is that? Let me tell you in a couple of sentences:
First of all, it has a massive 800 pounds weight limit, while limiting a jumper at 225 pounds! That means that if you want to train, you can jump as aggressively as you'd like and there is absolutely no risk that you can fall through or in any other way harm yourselves. That also means that you can bring your friends if you'd like and jump together. After all, it is 10′ x 17′ which is quite big. Really big.
Second, this one comes with an enclosure which is one of the highest quality on the market. The entry isn't through the zipper doors on the enclosure, but an overlapping entry – you just enter through the overlap and you're in, while at the same time you remain safe inside the trampoline.
Third of all, as big as it is, you probably won't even consider breaking it apart if you don't have to, which is why everything is made for outdoors usage: frame and steel springs are rust resistant, mat and enclosure along with spring cover are UV resistant. I would suggest you buy some kind of cover just to make sure your trampoline lasts longer.
The jumping mat surface is 40 inches tall. Why is that important? Well, when you jump really hard, you won't hit the ground. It truly is engineered to last through all your hard jumps.
The mat is made out of 10 layered stitching, one of the highest quality on the market. Bear that in mind while choosing what you'll buy.
The package weight is about 250 pounds which is a lot. The instructions provided are pretty accurate and easy to follow. It should take around two hours with two persons to assemble it. And one more thing: you get a 10-year frame warranty, 5 years on the jumping mat… That is remarkable.
So what's the price? This great piece of engineering has a somewhat bigger price tag. For that price, you get one of the best on the market, gymnastic equipment, source of fun… What else could you ask for?
Click here to view JumpSport 10′ x 17′ on Amazon!
JumpSport Fitness Trampoline Model 250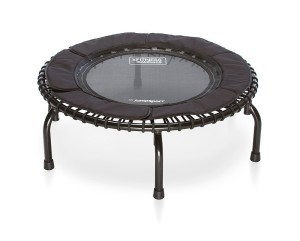 This is the cheaper, less-featured version. But it is still a great choice, of course. You can't go wrong with JumpSport!
As far as assembly goes, you just have to screw the legs in and that's all! You are ready to jump.
There is no springs here! Instead, JumpSport uses bungee cords to power up your trampoline, which is great: it feels better and it is safer! Even if one breaks (which can happen from usage, they are rated at 1 million cycles) you don't have to worry. You probably won't even notice it. It'll stay where it is and your jump won't be affected as there are a lot of other cords to hold you. And the cords make it so quiet…
It doesn't offer any adjustment for the firmness level which means that you jump as it is. It also has a 250-pound weight limit, so keep that in mind. A basic workout DVD is provided with this one, so you won't have to worry about that – they got you covered.
You get a great warranty with this and the customer service is amazing as well. Although it is so durable that you probably won't need to contact them at all!
The frame diameter is 39" and it is strictly speaking unfoldable. However, since it is so easy to assemble, you can disassemble it with ease as well, so you can put it under the bed if space is a problem for you.
Click here to view model 250 on Amazon!
JumpSport Fitness Trampoline Model 350 PRO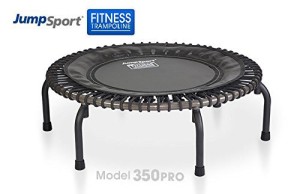 This is the more featured version. If you look carefully, there are a lot of "better" models (570 for example) but they don't offer that much more for the price, so I don't review them here.
This model has everything as the last one: bungee cords, 39", workout DVD, unfoldable, quiet… But the difference is huge! Why, you probably ask?
Well, first of all, this one supports up to 300 pounds. That is a big difference. Second, it offers 7 adjustments to firmness levels on the jumping mat. That way you can make better progress with more control and adjusting your level of fun.
The jumping surface is a little smaller. I know, that is usually not the idea of "better" but for this type of trampolines, you don't really need big. You need control of the movements and that is what you're getting.
The cords are 4 times more durable, rated at 4 million cycles, which is actually amazing. That means you can jump 4 million times before some of it breaks down. That will usually come in about 4 years of regular usage, which is amazing for the trampoline.
Also, it comes with a better 4-in-1 DVD, so your workout needs are met. All of them.
As with the last one, since it is the same manufacturer, the warranty is great and customer service is outstanding! They truly are a wonderful company.
Well, those are all of the differences, and those differences come at a little bigger price tag, but nothing to be scared of.
Click here to view model 350 PRO on Amazon!