Not one of the most popular manufacturers and I never knew why. Trampolines they make are nothing short of amazing, and I can be really confident saying that. That being said, since they aren't really popular, there aren't a lot of them and I never had the chance to try more than this one reviewed here. I hope you find the review useful.
ExacMe 12ft with enclosure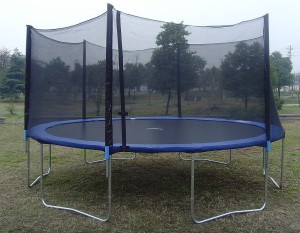 This one has a rust-resistant frame and springs along with the UV resistant enclosure, mat, and pads, so it's made for outdoor usage. That doesn't mean you can't bring it inside, of course, but that it can last long on the outside. It holds out for years – actually, it is one of the sturdiest trampolines out there.
There are 6 legs here with 12 balance points which add to improved stability so you can brag that your trampoline never even shook, let alone tipped over (some low-quality ones can do that, trust me).
It isn't really tall, but it isn't short either, which is why you get a ladder included here, so your kids can hop onto it easier (manufacturers usually don't ship trampoline with ladders so that's $30 right there).
The weight limit is 280 pounds by the manufacturer and it is really true, don't go over it. But it still means you can hop on with your kids or with a friend. That's a good thing.
The bounce is really good and really thrilling, so the fun part is covered for you!
The enclosure is attached to the whole poles, not just on certain points, which make it stronger, safer and better overall. It is of really good quality as you might see. It is connected on the outside of the spring cover, which some say is less safe because there is a possibility of pinching on the springs. Spring cover got it covered though!
ExacMe 12ft comes in 3 boxes, is easy to assemble but I'd suggest buffering a couple of hours. Also, this is a two-person job, so you'd probably like to recruit a helping hand.
A good jump, sturdy trampoline, great enclosure… So you've got fun and safety covered. And it is quite cheap. What else do you need?
Click here to view ExacMe 12ft on Amazon!