Bazoongi 48″ Bouncer Trampoline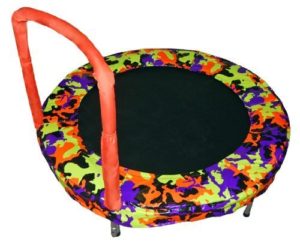 This is our number two pick. It comes with a fully padded removable handle so if your kid likes to bite, you might just go with this one. Moreover, the handle can be easily adjusted to two different heights. It has the 6 legs and is classified for up to 100 pounds. As the name implies, it is bigger than the last one – 48″ in diameter! This is actually the only bigger trampoline I'll suggest here.
It is unfoldable – once you assemble it, it is more difficult to disassemble it. However, the handlebar can be detached, so it can make up for being unable to unfold. Now, my brothers' kids really loved this one. They were literally fighting over who is going to be the first one to jump on it! Imagine a 3 and 4-year-old fighting with their gorgeous voices about a place to jump on…
So, everybody I talked to said that it is nice and durable, that kids can't jump too high and it is also padded on the sides, which provides extra safety.
Now, the one thing I don't like with this one is that it has springs – which almost every trampoline has, actually – but the last one didn't. Springs make it a little more unsafe, but a little more durable. Yet, they pose a pinching hazard, so keep that in mind if you opt for this one.
Also, as with the last one, there is a possibility that the back legs won't be on the ground some of the time once your kid gets heavier than 50-60 pounds. As I said earlier, you can make up for that flaw by attaching some weights on the back legs.
All in all, our #2 pick is still a great pick which provides a lot of fun for your kid, it is really safe, durable and also bigger.
Click here to view Bazoongi little bouncer on Amazon!