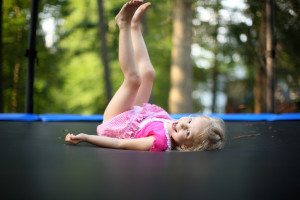 This is a page where all the reviews that are made on this website are located. If you're interested in some particular criteria, apart from the manufacturer, click on the above categories – trampolines for kids, workouts, etc.
All of the trampoline reviews are divided by manufacturer instead of by their usage (as I divided them previously). Of course, I wouldn't choose a trampoline just based on the manufacturer but would choose to look at what that particular trampoline is best for. The same goes for everything else. That being said, some manufacturers truly are better than others and therefore you don't need to look at any additional features. Yet most of us never bought a thing like this and would like to take a look at everything there is and then choose from. That is fine as well.
Take JumpSport for example. You know that they come at a hefty price, but they are a truly magnificent piece of engineering when it comes to the trampoline. They are really durable, high quality, with the ability to perform under almost any weight.
Now, Skywalker, for example, is a much more budget-friendly option. It is really great value on the money, that is for sure, but it doesn't offer some premium features as a very rich bouncing, 800 pounds limit and some extra safety features, like JumpSport or Springfree does.
As for Springfree, we talked about it – it is the safest, most durable and most expensive trampoline. If that is what you're after, then this is exactly for you.
As you can see, all of these have their own pros and cons and I did my best to cover all of these in my reviews. While writing the reviews, I relied heavily not only on my experience but also on the experience of my friends and family, neighbors and the good people from Amazon, which left their comments and reviews over there as well. What I'm trying to say is I really invested a lot of hours to write everything there is about this topic, to go really deep and to cover every aspect of every trampoline reviewed and to choose the very best for all of you. That means that all of the reviews here are of the best trampolines in their particular categories.
Choosing the best trampoline for you
Don't be lazy, do your research when you're buying a new trampoline. I did that for you, but you still want to know what do you want, right?
Size
This is almost always the most crucial factor. As you might know, size can vary from 6 feet to some giant 17 feet. Take that measuring tape, get your measures and decide how big do you want it.
Shape
There are a couple of things to consider here. Namely, the most popular are round, oval,  rectangular and octagonal trampolines. Take your pick as this certainly means different design, amount of time needed for assembling, the difficulty of assembling and your experience while jumping.
Weight limit
Pay attention to this detail. If your model can't support your weight, what good is it? It will just bend and break under you. Don't make the mistake of not checking the weight limit of your trampoline. And we'll have to go blind with this and trust the manufacturer that their quality control did their job and that they tested it properly for the weights (which they almost surely did or they wouldn't be allowed to sell in the USA).
Frame
All of the trampolines I recommended are made of galvanized steel, which is rust-resistant and really strong, which is why I never bothered to mention that. This is simply a must. Also, check the welding; smooth welds means a better connection.
Spring count and length
This is quite simple: the more the springs, the higher the jump. Also, the longer the springs, the higher the jumps. Nothing much to philosophize about. There is no rule of thumb here because bigger trampolines naturally have more springs (usually, 8ft = 56, 10ft = 64, 12ft = 72 springs etc).
Accessories
First of all, the safety enclosure. If you're starting out, please don't jump without an enclosure. I know of too many stories that ended with somebody crying because of the absence of enclosure.
Second, please consider buying anchor kit (a metal used to keep your trampoline attached to the ground, a must-have if you plan on using the trampoline year-round) and ladders (just for the sake of convenience and easier getting in). You can find all of these on my accessories page.
I sincerely hope that this "toy" will make your life prettier and better as it did with mine. As always, if there is anything you'd like to add or comment on, you can always contact me.
Reviews:
Skywalker
There are a couple of things to consider when talking about Skywalker trampolines. First of all, they tend to give the best value for the money. Secondly, all of the trampolines with enclosure have a so-called button-hole system, which simply means that the enclosure is attached directly on the jumping mat so the risk of falling out or pinching yourselves on the springs is minimized. They all follow industry standard of making everything out of rust-resistant, galvanized steel, so you won't be worried about leaving your trampoline outside. Really, they are a terrific start and a great value; what more can you ask for?
Skywalker Trampolines 60 In. Round Seaside Adventure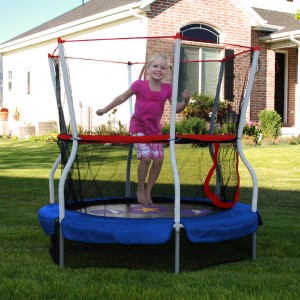 This one looks really neat, right? We started with this one for my kids. It is perfect in some ways, while still imperfect in other. So let's talk safety first as it is the most important thing when it comes to little children: there is a net enclosing the whole trampoline; the net is gap-free, so there is no chance that your little one might go under it and hurt himself/herself. Also, there is a 360-degree handle around the inside perimeter so kids can hold onto it while getting adapted to this trampoline. And it might just help them build confidence in their ability to jump thus preparing them better for the challenges that lie up ahead (I'm talking about adulthood)!
This one comes without springs, as springs pose a pinching hazard, so they come with bungee cords instead. The only downfall of this is that cords tend to break sooner than springs – usually in 3 years from my experience – but it still provides a lot of fun for all that time. It is also a little complicated to assemble, but not too much – it's just that the instructions are not really good. Also, it's not meant to be disassembled; that simply means that disassembly is hard and that you shouldn't rely on doing that every day.
It is a joyous 60″ source of fun for everybody on it. It is meant to serve as a trampoline for ages 3-7, but as the weight limit is the important factor here (100 pounds), as long as your kid fits into that category it will be fine and happy. Although bigger kids, even if they fit into the weight category, tend to be bored by this little one, so you should probably consider buying a bigger one.
You might want to put more than one kid on this, but I wouldn't suggest that as the possibility for them getting hurt grows.
All in all, this is a great one, my kids enjoyed it, and it isn't expensive – it comes at around $80.
Click here to view Skywalker Round Seaside Adventure on Amazon!
Skywalker 8-Feet Round Trampoline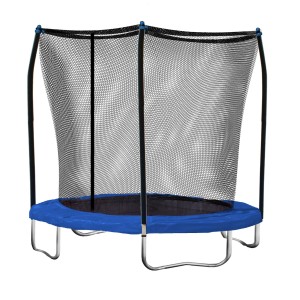 Skywalker trampolines usually are gold – they offer the best value for the money, they fit into the budget and they have some pretty important basic safety measures. This one comes with a safety enclosure and safety pad. The net connects directly to the mat, which is Skywalker exclusive, so nobody will be able to pinch themselves on springs.
It supports up to 175 pounds of bouncers, so it should be enough for two kids as long as they fit into that weight limit. Of course, the weight limit is there for your safety.
This one isn't really high so you won't need a ladder for it. It isn't foldable, which means it is meant to be assembled and left like that. Ok, of course, you can disassemble it, but it is a rather long process, so you'll probably want to leave it be for most of the time. Now, the assembly isn't really that hard, a friend of mine did it all by herself while she was pregnant, although it wouldn't hurt if you have somebody to help you. It isn't a two-man job as bigger trampolines are, but it still helps.
If your wish is to take this indoors, your wish can be granted. If you can fit it, of course. The only thing I'd suggest is that you wrap some paddings (pick your best) around the legs in order to not damage the floor. Don't say I didn't warn you!
All in all, a decent trampoline, not for a really high bounce, indoors friendly, unfoldable, budget-friendly. I loved this one while we had it!
Click here to view Skywalker 8ft round trampoline on Amazon!
Skywalker 10ft with enclosure
This one is my favorite 10ft Skywalker for a couple of obvious reasons, first of all being its weight limit. On the box, it says that it is 175 pounds max and although I tend to take these precautions very seriously, I managed to find out that it can hold about 200 pounds. I wouldn't go above it. Although everything above 175 is at your own risk (mandatory disclaimer).
It is a really solid and stable thing, rust-resistant frame and 64 rust-resistant springs and everything you need to make a trampoline work – classical Skywalker thing. Rust-resistant also means that it is made to last in your backyard as well.
The safety net is attached directly to the jumping mat, which is a bonus safety feature (a standard Skywalker if you ask me, they always deliver a lot for their price point). Also, it isn't really tall, so you won't be needing any ladders for this one. That is reserved only for the bigger trampolines.
Instructions for the assembly are a little unclear and a bit confusing, so I suggest reading all of them first before starting the assembly process. Also, I recommend taking two persons for this job because at some points you will need an extra hand.
It is exactly 10ft in diameter, which makes around 8.5ft of jumping mat space and the rest are springs and the frame. This is obviously important when you're dealing with a small space.
If 10ft is what you're after and Skywalker is your favorite, go with this one. Of course, this isn't the only 10ft trampoline they made, but it surely is the best, which is why I don't really talk about others.
Click here to view Skywalker 10ft on Amazon!
Skywalker 12ft with enclosure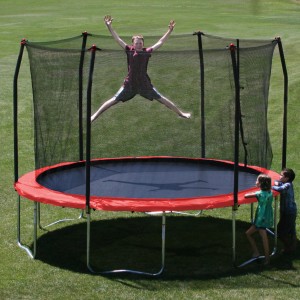 First of all, let's talk about the prime feature of all the Skywalker trampolines with enclosure: the enclosure is attached with patented buttonhole system, which provides for more safety because it attaches directly to the end of the mat, making it impossible to hit a spring and somehow pinch or hurt yourself. Also, it avoids ropes which most of the other enclosures use, which makes it even better – and neater.
All of the materials on this one are UV resistant, meaning you can leave outdoors, in the sun, and everything will last the way it should, without a lot of damage (I'd like to say without any damage, but it is still prone to weather conditions). Also, the frame and the springs (72 of them) are rust-resistant.
This one comes in a variety of colors: red, purple, green, black, blue… And price varies from color to color and that is just based on color (red one doesn't have anything extra that green one doesn't have)! If you ask me, that's absurd, I'd just buy the cheapest one. After all, it will be in the backyard, so you don't need to match it with interior design and stuff.
Assembly tends to be complicated as with most of the trampolines. It isn't hard, it doesn't require muscle, but it is time-consuming. I suggest you make a buffer of a couple of hours and you have a helping hand; helping hand makes assembly so much easier.
It comes in two heavy boxes. The customer service of Skywalker is outstanding: they respond in no time at all and are willing to meet you halfway in everything, even offering things free of charge when you're out of warranty or it is your fault that something happened. We always had a wonderful time with them, and so did a lot of our friends and people on Amazon.
This one is really durable during winter and if you live in a harsh environment you might want to consider buying a trampoline cover, just to make sure it lasts a long time and for the years to come.
A really good looking trampoline, with a lot to offer. It gives the feeling of sturdiness and safety just by looking at it. Definitely, a recommendation if 12ft in diameter is what you're after! You'll never go wrong with Skywalker!
Click here to view Skywalker 12ft with enclosure on Amazon!
Skywalker 14ft square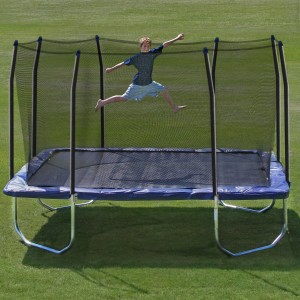 The next one on my plate for a review is Skywalker's 14ft square trampoline. Of course, it comes with the usual things: pad and enclosure, for your safety. As with any other Skywalker, the safety enclosure is attached via the buttonhole mechanism on the inside of the mat, so you won't be able to pinch yourselves on the springs in case a safety pad moves. This has another advantage: some of the enclosures use ropes to tie to the frame, which this clearly avoids. So that's a bonus.
It is made of steel, both frame, and springs, and all of them are rust-resistant. Mat, enclosure, and safety pad are all UV resistant and all of this makes this trampoline very durable under outdoors conditions! This is a first square trampoline I reviewed and I must say that it looks dazzling to me, although it isn't olympic-like square (I mean its more of a rounded square), it looks way better than regular, round one.
My cousin has this and he says that it's ideal to practice flips on it. Also, he says that the enclosure is really good and that it can stop a fully grown adult from breaking through at full speed, which is marvelous.
It is easy to assemble, but the instructions are very unclear, so you might want to read them first, then proceed to assemble with somebody to help you (I suggest at least two people for the job).
It supports 250 pounds of weight at once, but you could probably stretch that to 300. Just be careful!
Also, I'd suggest buying some ladders, they can help with you getting on the mat.
This is a really good trampoline, with a lot of features, big jumping space, good bounce and quality safety features.
Click here to view Skywalker 14ft square on Amazon!
Skywalker 17ft oval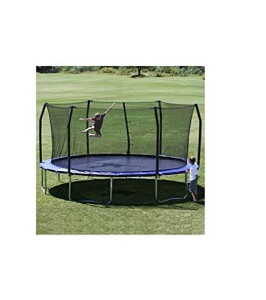 This is the biggest trampoline I'm making a review of, with the exception of olympic ones – but they are a completely different category. So, 17ft. Exciting, isn't it? Actually, since it's oval, it's actual dimensions are 17ft by 15ft.
Now, this is a strange trampoline. Since it's big, they probably couldn't make it really "weight-resistant", so to speak. Its weight limit is 200 pounds and I wouldn't go more than that. That makes it the greatest personal toy available, but it is almost impossible to have more than two persons on at the same time. That makes me sad when you have something this big.
But it can still be a great thing! It comes in a variety of colors and has some of the usual features: UV resistant mat, enclosure, and safety pad, rust-resistant frame, and springs which makes it ideal for outdoor usage (and where else would you fit a 17x15ft ?!). The enclosure is attached by a buttonhole patent directly to the edge of the mat, which makes it safe and avoids the use of ropes some enclosures use.
One really neat feature is the anti-slipping mat. It is made of a somewhat different material than all the other mats, so you can really rely on its safety measures and know you won't be able to get hurt if you specifically don't try to.
If you take care of it, it can last really long, so I suggest buying the cover for winter.
As for the assembly, the instructions are pretty weak. I don't know how they missed it so much, but they are actually sending generic instructions for round trampolines and oval is really different. So be careful, read it carefully, notice where you need to change something and proceed slowly. A friend of mine said it took him 6 hours for him and his son and that they made a mistake halfway which made them go back all the way as they didn't notice the mistake soon enough.
If the size is what you're after and you're not planning on getting a lot of o people in your backyard, this one might be ideal for you.
Click here to view Skywalker 17ft oval on Amazon!
Upper Bounce
Upper Bounce is a solid manufacturer and I would consider it neither one of the best nor the worst. They have their flaws (like the enclosures that tend to break relatively easy) but have their vices as well (really easy assembly, the bounce is good and high). It is decent and if you've set your eyes on it, don't hesitate. There are some better alternatives, of course, but they are either more expensive or tend to be so much less fun. Enjoy!
Upper Bounce 10ft Trampoline
This is my absolute favorite 10ft trampoline because of a couple of things. First of all, it is really easy to assemble. Usually, when people say it is easy, they mean in comparison to other types, but this one is generally easy to assemble! It also has the usual stuff: rust-resistant frame (to make it durable for outdoors, wind, sun, rain, snow, etc.), safety mat and safety enclosure (or net). As far as its height goes, you won't be needing stairs, or you will in case you have little kids. But I'd suggest going with other trampolines if you have little kids.
Why is that? Because this one provides bounce as no other 10ft does and that is a tested fact. So it is pure joy.
So, when it comes to safety, here are its characteristics: 330 pounds is a maximum weight load, it has double rubber ties over springs for added safety, safety net connects to the jumping mat which make it almost impossible to pinch yourselves on the springs and it is built for outdoors. Of course, that doesn't mean you can't bring it indoors, but I wouldn't suggest it – there are other trampolines that are more indoor friendly.
Now, some problems my friends and family encountered in some time (which manufacturer won't tell you about, of course): safety net isn't the most durable on the market and the replacement is available, straps that hold safety mat are of somewhat bad quality so they can rip. Fortunately, you can fix that easily, with some glue, or just sew in something stronger. It should take you around 10 minutes to do so and around $5. Not a big deal.
Nothing is perfect, of course, and this trampoline is no exception. Don't overlook the flaws, but wage it as this one has really great potential when it comes to fun, which is why I suggest it all the time. Those issues I described are minor, but they exist, so just keep that in mind. All in all, this is my first recommendation. It is also available in different sizes.
Click here to view Upper Bounce 10ft on Amazon!
Upper Bounce 12ft with enclosure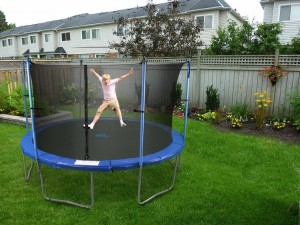 Upper Bounce has trampolines from 7.5 to 16ft, all under the same name, and it's just a matter of size. That is good because you know that what you're getting is persistent across sizes – and what you get is actually great!
So, let's start with basics: rust-resistant frame and rust-resistant steel springs along with UV resistant mat, safety enclosure and safety pad make this one qualified for outdoor usage for longer periods of time, while at the same time looking and feeling almost as new.
The safety pad has double rubber ties which makes it even safer to jump on, while at the same time holding really tight to springs, so there is practically no possibility of pinching. Jumping mat has 8-row stitching which in principle is to say to you that it is more durable than the others.
The manufacturer declares it for 330 pounds max weight and I think that it is really great as I have reviewed some bigger ones that had lower weight limits. This means that you could jump with your kids with no problem at all. That's quality for you right there.
A little remark: safety enclosure tends to break easily so you'd want to watch out for that. Upper Bounce has the replacement one ready to buy, or you could buy an enclosure from another manufacturer (I talk about it here) if it comes to that. Also, the good thing about the enclosure is that it connects directly to the jumping mat, so while it is functional, it is doing a really good job of protecting you from falling down.
You can jump really high on this one, so beware of that – I wouldn't suggest it for the absolute beginners. But the thrill you gain from it is amazing. Assembly of this one is really easy. You won't be disappointed!
Click here to view Upper Bounce 12ft on Amazon!
JumpSport
With JumpSport you know where you're headed to. It's perfect quality! That's it. These got you covered in almost everything: they're durable, fun, great bouncing, professional-grade, safe and secure… It's almost as if they don't have a downside. Well, that comes at a price, so they tend to be more expensive than Skywalker for example, but they are surely worth the money. I own JumpSport trampoline and I've never been disappointed in them. Give them a try, you won't regret it and you won't go for anything else later!
JumpSport Elite 14ft with enclosure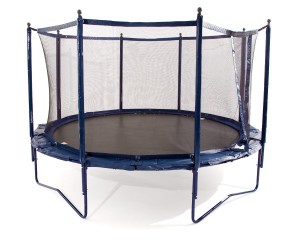 This one is a little pricey. It is the first trampoline I had to plan for months. But stay here with me because this thing changed my life completely!
Let's start with minor details: it comes in navy blue and black colors, looks very strong and sturdy. It has a UV resistant mat and enclosure, along with the strong, rust-resistant frame and rust-resistant springs. Okay, but a lot of trampolines have these; what's so special with this one, you might ask?
Well, would you mind me telling you that this has a 15 years warranty on its frame? I know that really caught my attention. I'm used to products which break a few days after the warranty expires. But for this one, even if it is the case, that still 15 years! And if you plan on using it that whole time and you finance yourself like a bank, you'll spend around 10$ a month on this trampoline or less, which is insane!
Ok, but apart from that, this is the most amazing thing: it supports up to 800 pounds. What? You're excited as I am? 800 pounds at once! And they say no more than 240 per person. Ok, that is acceptable for me. But that means I can have my friends over for a party in the backyard!
Onward, it doesn't come with ladders, but I highly suggest you buy them as well. The enclosure is attached from the inside, so that makes it for better security. And you can have a really high bounce!
In fact, I have this one in my backyard. I used to practice my gymnastics moves on it. It is that spacious and that good. Try it for yourself!
Oh, and one more thing – the assembly was really easy. The only thing that was something I considered carefully with this one was the price. If you can afford it, go for it! I promise you won't be disappointed!
Click here to view JumpSport elite 14ft on Amazon!
JumpSport 10′ x 17′ with safety enclosure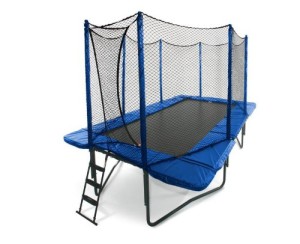 This is probably the greatest trampoline there is that is available for your backyard. Why is that? Let me tell you in a couple of sentences:
First of all, it has a massive 800 pounds weight limit, while limiting a jumper at 225 pounds! That means that if you want to train, you can jump as aggressively as you'd like and there is absolutely no risk that you can fall through or in any other way harm yourselves. That also means that you can bring your friends if you'd like and jump together. After all, it is 10′ x 17′ which is quite big. Really big.
Second, this one comes with an enclosure which is one of the highest quality on the market. The entry isn't through the zipper doors on the enclosure, but an overlapping entry – you just enter through the overlap and you're in, while at the same time you remain safe inside the trampoline.
Third of all, as big as it is, you probably won't even consider breaking it apart if you don't have to, which is why everything is made for outdoors usage: frame and steel springs are rust resistant, mat and enclosure along with spring cover are UV resistant. I would suggest you buy some kind of cover just to make sure your trampoline lasts longer.
The jumping mat surface is 40 inches tall. Why is that important? Well, when you jump really hard, you won't hit the ground. It truly is engineered to last through all your hard jumps.
The mat is made out of 10 layered stitching, one of the highest quality on the market. Bear that in mind while choosing what you'll buy.
The package weight is about 250 pounds which is a lot. The instructions provided are pretty accurate and easy to follow. It should take around two hours with two persons to assemble it. And one more thing: you get a 10-year frame warranty, 5 years on the jumping mat… That is remarkable.
So what's the price? This great piece of engineering has a somewhat bigger price tag. For that price, you get one of the best on the market, gymnastic equipment, source of fun… What else could you ask for?
Click here to view JumpSport 10′ x 17′ on Amazon!
JumpSport Fitness Trampoline Model 250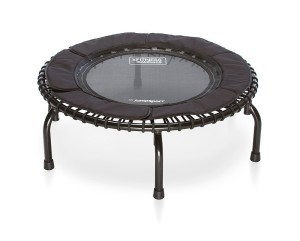 This is the cheaper, less-featured version. But it is still a great choice, of course. You can't go wrong with JumpSport!
As far as assembly goes, you just have to screw the legs in and that's all! You are ready to jump.
There is no springs here! Instead, JumpSport uses bungee cords to power up your trampoline, which is great: it feels better and it is safer! Even if one breaks (which can happen from usage, they are rated at 1 million cycles) you don't have to worry. You probably won't even notice it. It'll stay where it is and your jump won't be affected as there are a lot of other cords to hold you. And the cords make it so quiet…
It doesn't offer any adjustment for the firmness level which means that you jump as it is. It also has a 250-pound weight limit, so keep that in mind. A basic workout DVD is provided with this one, so you won't have to worry about that – they got you covered.
You get a great warranty with this and the customer service is amazing as well. Although it is so durable that you probably won't need to contact them at all!
The frame diameter is 39" and it is strictly speaking unfoldable. However, since it is so easy to assemble, you can disassemble it with ease as well, so you can put it under the bed if space is a problem for you.
Click here to view model 250 on Amazon!
JumpSport Fitness Trampoline Model 350 PRO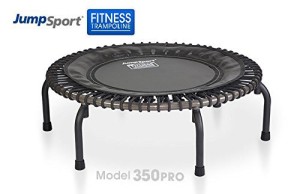 This is the more featured version. If you look carefully, there are a lot of "better" models (570 for example) but they don't offer that much more for the price, so I don't review them here.
This model has everything as the last one: bungee cords, 39", workout DVD, unfoldable, quiet… But the difference is huge! Why, you probably ask?
Well, first of all, this one supports up to 300 pounds. That is a big difference. Second, it offers 7 adjustments to firmness levels on the jumping mat. That way you can make better progress with more control and adjusting your level of fun.
The jumping surface is a little smaller. I know, that is usually not the idea of "better" but for this type of trampolines, you don't really need big. You need control of the movements and that is what you're getting.
The cords are 4 times more durable, rated at 4 million cycles, which is actually amazing. That means you can jump 4 million times before some of it breaks down. That will usually come in about 4 years of regular usage, which is amazing for the trampoline.
Also, it comes with a better 4-in-1 DVD, so your workout needs are met. All of them.
As with the last one, since it is the same manufacturer, the warranty is great and customer service is outstanding! They truly are a wonderful company.
Well, those are all of the differences, and those differences come at a little bigger price tag, but nothing to be scared of.
Click here to view model 350 PRO on Amazon!
BAT
BAT olympic rectangle 10′ x 17′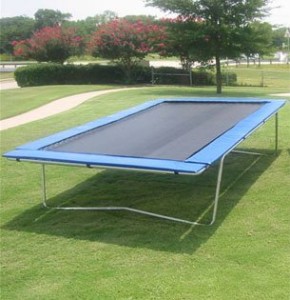 This is an all-American made one. The first thing you'll notice is that it comes as-is; no enclosure, no ladders, just plain simple trampoline and safety pad (or spring cover). It focuses on the quality of the jumping surface and the springs, which is why it can be qualified as olympic.
The springs that are used are of bigger diameter and higher quality than most of the competitors. What does that mean? Well, for starters, you're sure that you won't fall through. Second, the bounce you can get with this trampoline is BIG. I mean, it is really big. True olympic style.
But let's be clear on one thing: this is absolutely not for beginners. The jumping mat is 40 inches high, the bounce is great, there is no safety enclosure, which means you can really hurt yourself if you're not careful enough. Don't say I didn't warn you!
The weight limit is 350 pounds, which is to say that one person can be really aggressive, but you can jump for enjoyment as well.
All of the materials used are made for outdoors usage. Everything is rust-resistant, or weather-resistant, or UV resistant, or everything of the above. I'd still cover it though, as it is quite expensive so just to be on the safe side.
While assembling isn't really hard, you'll need some extra accessories, such as spring tool. Also, be sure to buy a 4-step ladder or you'll get sweaty by the time you get onto the damn thing. All of the accessories I recommend can be found on the accessories page on my website.
So this is a serious thing and not really a toy. But I know you'll enjoy it. How do I know that? Because I did. A lot.
Click here to view BAT 10×17 on Amazon!
ExacMe
Not one of the most popular manufacturers and I never knew why. Trampolines they make are nothing short of amazing, and I can be really confident saying that. That being said, since they aren't really popular, there aren't a lot of them and I never had the chance to try more than this one reviewed here. I hope you find the review useful.
ExacMe 12ft with enclosure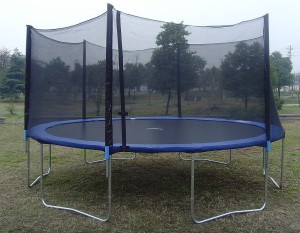 This one has a rust-resistant frame and springs along with the UV resistant enclosure, mat, and pads, so it's made for outdoor usage. That doesn't mean you can't bring it inside, of course, but that it can last long on the outside. It holds out for years – actually, it is one of the sturdiest trampolines out there.
There are 6 legs here with 12 balance points which add to improved stability so you can brag that your trampoline never even shaken, let alone tipped over (some low-quality ones can do that, trust me).
It isn't really tall, but it isn't short either, which is why you get a ladder included here, so your kids can hop onto it easier (manufacturers usually don't ship trampoline with ladders so that's $30 right there).
The weight limit is 280 pounds by the manufacturer and it is really true, don't go over it. But it still means you can hop on with your kids or with a friend. That's a good thing.
The bounce is really good and really thrilling, so the fun part is covered for you!
The enclosure is attached to the whole poles, not just on certain points, which make it stronger, safer and better overall. It is of really good quality as you might see. It is connected on the outside of the spring cover, which some say is less safe because there is a possibility of pinching on the springs. Spring cover got it covered though!
ExacMe 12ft comes in 3 boxes, is easy to assemble but I'd suggest buffering a couple of hours. Also, this is a two-person job, so you'd probably like to recruit a helping hand.
A good jump, sturdy trampoline, great enclosure… So you've got fun and safety covered. And it is quite cheap. What else do you need?
Click here to view ExacMe 12ft on Amazon!
Pure Fun
Pure Fun is an American manufacturer based in Texas and they build a solid portfolio of trampolines and some other backyard toys, usually for kids. Now, that doesn't mean that adults can't use them, of course. Their trampolines are durable and offer good value for your money, so they are definitely worth a shot. Check it out below!
Pure Fun 8ft Trampoline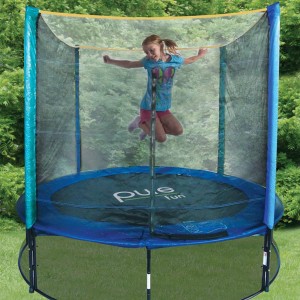 As I've said, Skywalker has some decent safety measures taken. But if you need more than that, maybe you'd like to consider buying this one. Pure Fun really made this one a solid choice, but it comes at a little bigger price tag.
The frame is made with strong iron tubing and it has 8 balance points – which provides for better stability of the whole trampoline. Safety enclosure includes sewn-in elastic straps so that it not only protects you or your kids, but it also provides more fun. The padding over the springs is of really good quality so you don't have to worry about pinching.
It is really easy to assemble. Almost as easy as the last one. Still, I'd recommend two persons for the job (and some buffer time, around an hour or two).
Take this into account – poles which carry safety net are a little weak. All my friends who bought this had this problem. I know you'd like everything to work once you pay for it, but nothing is perfect. Luckily, there is an easy solution for this – simply buy PVC tubes and put them instead of the poles you got with your trampoline. It's that easy.
It supports up to 175 pounds at once. Steel springs are of much higher quality, so they provide a lot more bouncing potential than the other trampolines in this category.
So it is meant to be a source of pure fun, as the name of the company implies, and it is also as safe as a trampoline with springs can be. Just watch for those poles and you'll be fine – and ready to let your kids play for the years to come.
Click here to view Pure Fun 8ft on Amazon!
Pure Fun 14ft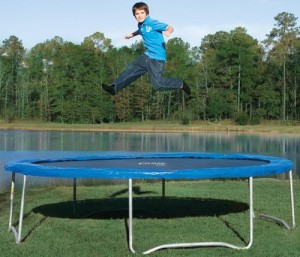 It is 14ft in diameter! And it has a low price tag. Talk about good value… Now, while it certainly is big, it comes without a safety net so you'll have to be careful (or, you know, just buy the net separately). It supports up to 250 pounds, which is really decent.
Now for the fun part: it has 88 rust-resistant steel springs which allow really good bounce. Alas, some friends told me that they don't last that very long, so you might take that into account before deciding on this one. Also, it comes with a two-year warranty, so you won't need to worry about that one.
The padding over the springs is of good quality, so no pinching is available, sorry.
The best thing is that it is really easy to assemble it – one of the easiest assemblies of all the trampolines I came across. It took my friend about 35 minutes for him and 13 years old son. And you won't need any extra tools as everything you need comes in a box. One box, although heavy, but not too much.
It is quite a good trampoline, especially for its money. If you want a bigger one but not to spend too much money make this one your default choice. You won't be disappointed!
Click here to view Pure Fun 14ft on Amazon!
Pure Fun 15ft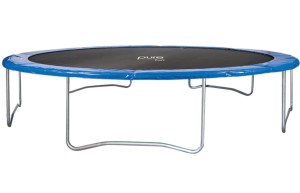 So, this one has 5 legs and 8 balance points, which means your trampoline won't shake when you jump, rather it will stand firm and tall and you won't be able to tip it over.
But, as safe as it is when it stands, bear in mind that it comes without a safety enclosure. If that bothers you, you can buy safety enclosure and attach it, although the recommended enclosure won't fit perfectly (as it would when you get a trampoline with enclosure).
As usual, the mat and safety pads are UV resistant, frame and springs (100 springs! WOW) are rust-resistant, so it is durable and made for outdoor use. Also, as its name implies, it is 15ft in diameter.
Now, this one isn't for beginners for two simple reasons: the first is that there is no safety net, which could be a safety concern if you're a beginner, and the second reason is that it provides a very, very good bounce. You can jump really high on this one, trust me. And since there are a good bounce and no safety net, it makes you learn everything faster – if that is your goal, that is.
Now, it comes with a 250 pounds max weight on it, but my neighbors say that it can hold up to 300 pounds. You can trust them, they had this one for 5 years. Oh, while we're at it, it is that durable.
Some people say that the safety pad looks cheap. I say that they can change it if they want to, but as far as I'm concerned, the main thing is the function and it serves its purpose (safety) pretty well.
Assembly is easy, instructions are really clear and as with others: you'd probably want to buffer a couple of hours and arrange for a helping hand because this is definitely a two-person job.
Click here to view Pure Fun 15ft on Amazon!
Bazoongi
Bazoongi 48″ Little Bounce Bouncer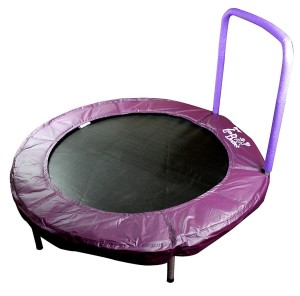 This is our number two pick. It comes with a foam-coated handle so if your kid likes to bite, you might just go with this one. It has a standard 4 legs and is classified for up to 110 pounds. As the name implies, it is bigger than the last one – 48″ in diameter! This is actually the only bigger trampoline I'll suggest here.
It is unfoldable – once you assemble it, it is more difficult to disassemble it. However, the handlebar can be deattached, so it can make up for being unable to unfold. Now, my brother's kids really loved this one. They were literally fighting over who is going to be the first one to jump on it! Imagine a 3 and a 4 years old fighting with their gorgeous voices about a place to jump on…
So, everybody I talked to said that it is nice and durable, that kids can't jump too high and it is also padded on the sides, which provides extra safety.
Now, the one thing I don't like with this one is that it has springs – which almost every trampoline has, actually – but the last one didn't. Springs make it a little more unsafe, but a little more durable. Yet, they pose a pinching hazard, so keep that in mind if you opt for this one.
Also, as with the last one, there is a possibility that the back legs won't be on the ground some of the time once your kid gets heavier than 50-60 pounds. As I said earlier, you can make up for that flaw by attaching some weights on the back legs.
All in all, our #2 pick is still a great pick which provides a lot of fun for your kid, it is really safe, durable and also bigger.
Click here to view Bazoongi little bouncer on Amazon!
Magic Circle
This is a really great manufacturer but a not so popular one as well. I never knew why. I mean it is popular, but no giant like Skywalker or JumpSport are… Anyways, I'm rambling too much. Here's the review!
Magic Circle Octagonal 16ft without an enclosure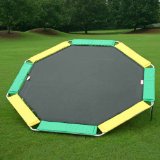 Okay, so I've only tried this one from this category and if I may say that I was blown away. This tops all of the popular round trampolines cold. As far as jumping goes, this is far superior, both in terms of capability and jumping height.
As far as capability goes, it supports up to 450 pounds, so that will make you covered for your personal use or for some backyard parties.
As for jumping height… I could do double flips on this with no problem at all. My friend who owns this weighs 250 pounds and he's doing the same. This really is insane.
It comes with really high-quality springs, the same quality that is in olympic trampolines. They are of course rust-resistant, as is the frame. The frame is really thick – as thick as a nickel – so no twisting, no breaking, just jumping.
Also, this is one of the easiest assemblies ever; it took us only about 35 minutes, and it is a 16ft trampoline! No extra tools needed – you just unpack it, follow the instructions and there you go!
Just bear in mind that this comes without a safety enclosure so please be extra careful when jumping on it. My friend didn't buy it at all and he had no problems whatsoever. Kids usually tend to jump against the enclosure if you have it. There is a version with enclosure, but it costs around $500 more and I don't know whether it is worth that much. Just be careful.
It comes in three colors: green, purple and yellow. They usually deliver a mix of the three, so if you want a particular color, you have to be specific with the seller.
I really enjoyed my time on this one. It truly is a great trampoline and all of my recommendations go out to this if you've settled on the octagonal type.
Click here to view Magic Circle Octagonal 16ft on Amazon!
Little Tikes
Little Tikes is a company that specializes in children toy and furniture manufacturing. So it's fair to say that everything they make is children-friendly, safe and fun for kids. These trampolines are no exception to that rule. When it comes to kids, this is truly a one-stop for most of your worries and they're having fun.
Little Tikes 36″ Toddler Trampoline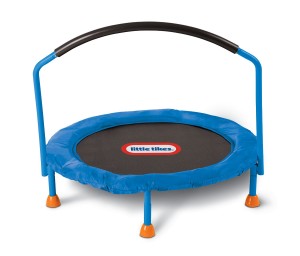 This cute little thing is something you can lean on if you're tight on budget as it is really cheap. It is a really reliable, portable and sturdy option for little kids.
Yes, very little. This one has a weight limit of 55 pounds. That is a little low, but it makes it up in its price.
Also, it is made out of unique webbing material which means there are no springs or bungee cords. This and the fact that you can jump the lowest on this one makes it the safest trampoline out of our 3 picks.
It is really easy to assemble, the handle is really wide and the bouncing surface is the same as our #1 pick – 36″ in diameter. It is padded on the sides as well. And since this one is not designed for heavier kids in mind, you won't have to worry about the back lifting off.
My neighbors have this one and they simply love it. It is said that it is for indoor usage only, but it is safe to bring it outside.
Click here to view Little Tikes on Amazon!
Little Tikes 7′ Trampoline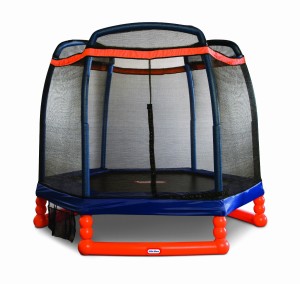 As the name implies, it is 7′ or 72″ in diameter, which is a really big surface to jump on for a kid. It is classified for 3-10 years old and it doesn't have the definite weight limit, so you can relax on this one.
My wife used to jump with one kid without any problem at all, although they never tried bringing in the other one – so I can't speak from experience how much can it handle actually. A kid and mom for sure.
It does come with a little bigger price tag and it sounds right actually – this is a serious trampoline.
There is a safety net up to the top so you don't have to worry about your kid falling off! Also, legs are curvier so the base of support is sturdier and stronger which allows everybody to jump higher.
This one operates on high-quality springs which are really greatly guarded by safety net and pads, so you won't have to worry about pinching a lot. However, I do suggest you look at the trampoline after you assemble it and figure if there is a gap of any sort where the springs can be seen and fill it with some foam just to ensure you're safe enough! Oh, and while we're at assembling – it is really, really easy! The part that can be a little difficult are springs, but it just needs a little strength, nothing special.
Because it is big, I suggest you use it outdoors. I mean, all my trampolines are outdoor and have ever been, but the smaller ones you can bring inside if that is your preference.
So, to sum it up, this is a great choice, a little more expensive but it is a big and great source of fun for your children and you if you wish so.
Click here to view Little Tikes 7′ on Amazon!
The Original Toy Company
As its name implies, this company is more than a trampoline manufacturer. Moreover, it specializes in toys for kids, meaning that all the trampolines they make are for kids in the first place. And one of the best in that field. Must be the experience in working with children for more than 10 years.
The Original Toy Company Fold & Go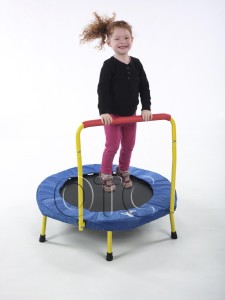 This is my number one pick as the best trampoline for toddlers for several reasons. So let's talk safety first! This little one has 6 instead of standard 4 legs which provide for more stable construction. There are no springs here – they are replaced with series of heavy-duty elastic straps, which makes it even safer. These are more durable than traditional bungee cords, so they are a great alternative to springs. Also, the side is padded for obvious reasons: so that your kid can be inside the circle of jumping and stay out of potential trouble.
It is able to support up to 150 pounds so that a mommy can jump with her kid as well. It is lightweight and can be folded, as its name implies, to a really small space – and unfolding is as simple as one two three – you just have to screw the legs on and put the handle. That's it!
Now, as you can notice, the handle is only on the one side. This makes it easier for bigger kids (50 pounds+) to make the back legs might lift off a little if they jump high. No one I know reported that their kid actually turned the trampoline over, but it is worth mentioning as this can be considered a flaw. So, when your kid gets heavier, you should consider attaching dumbells on the back legs, just to make sure everything is in order.
It is 36″ in diameter, elastic enough to make your kid happy but not enough to make it fly and potentially hurt itself.
That is all there is to know about this one – and it is my favorite for the apparent reasons – it is safe, durable, light and my wife could jump with kids. Splendid!
Click here to view this Fold & Go on Amazon!
Image credit: Pawel Loj on Flickr.