This is my personal favorite. I have it in my backyard and I'm more than happy with it. This choice has been a product of all the years of experimenting and trying new trampolines. If you plan to have something that is immobile, but can be your best friend from time to time, consider this one. All my recommendations go to this model.
JumpSport 10′ x 17′ with safety enclosure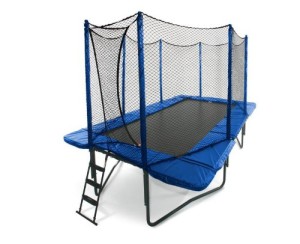 This is probably the greatest trampoline there is that is available for your backyard. Why is that? Let me tell you in a couple of sentences:
First of all, it has a massive 800 pounds weight limit, while limiting a jumper at 225 pounds! That means that if you want to train, you can jump as aggressively as you'd like and there is absolutely no risk that you can fall through or in any other way harm yourselves. That also means that you can bring your friends if you'd like and jump together. After all, it is 10′ x 17′ which is quite big. Really big.
Second, this one comes with an enclosure which is one of the highest quality on the market. The entry isn't through the zipper doors on the enclosure, but an overlapping entry – you just enter through the overlap and you're in, while at the same time you remain safe inside the trampoline.
Third of all, as big as it is, you probably won't even consider breaking it apart if you don't have to, which is why everything is made for outdoors usage: frame and steel springs are rust-resistant, mat and enclosure along with spring cover are UV resistant. I would suggest you buy some kind of cover just to make sure your trampoline lasts longer.
The jumping mat surface is 40 inches tall. Why is that important? Well, when you jump really hard, you won't hit the ground. It truly is engineered to last through all your hard jumps.
The mat is made out of 10 layered stitching, one of the highest quality on the market. Bear that in mind while choosing what you'll buy.
The package weight is about 250 pounds which is a lot. The instructions provided are pretty accurate and easy to follow. It should take around two hours with two persons to assemble it. And one more thing: you get a 10-year frame warranty, 5 years on the jumping mat… That is remarkable.
So what's the price? This great piece of engineering has a little bigger price tag. For that price, you get one of the best on the market, gymnastic equipment, source of fun… What else could you ask for?
Click here to view JumpSport 10′ x 17′ on Amazon!