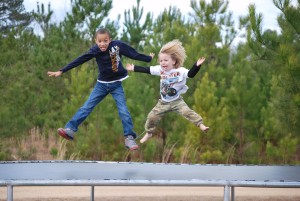 Aren't these little people so adorable? But they are still little people. Still don't have a lot of their own friends, parents are still concerned a lot about their safety, but they are not babies anymore. They need a very different set of toys, they want to go farther and jump higher… And they want to be allowed to do this on their own, without your supervision all the time. Oh, and you'd probably like to get a break from supervising them, right?
My kids are 6 and 10 now. I know how the older one started asking for a bigger and better trampoline when she grew to 3 years old. I did the research again. I bought her a great trampoline. Very simple.
Reviews are here, with pros and cons for every choice there is. I saved you a lot of time and picked the best trampolines for your 4, 5, 6, 7, 8, 9 or 10 years old. These trampolines are secure, but they are somewhat bigger than those for toddlers and offer some more bouncing, fun, joy, and laughter. You'll notice that the biggest difference from the toddler variant is that these don't have handlebars – and that is because older kids don't need them.
You will, however, notice that there is a safety net at the side, which is why you should be able to leave your kids unsupervised for some period of time while they're jumping on these ones.  Of course, there are some that don't have the safety net included, but that is something I would not consider, which is why all of my reviews have the net.
Also, I won't review bigger trampolines here as they have their reserved place (8ft, 10ft, 12ft, 14ft+) and also because bigger ones tend to allow children to jump higher, which makes it more prone to injury. Safety first!
My kids adored these trampolines. It made my backyard the most live and vivid backyard in the neighborhood. What more can one ask for?
1. Skywalker Trampolines 60 In. Round Seaside Adventure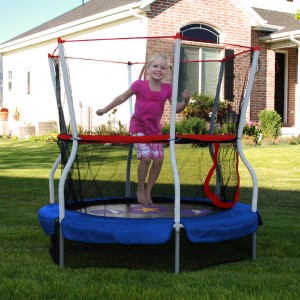 This one looks really neat, right? We started with this one for my kids. It is perfect in some ways, while still imperfect in other. So let's talk safety first: there is a net enclosing the whole trampoline. The net is gap-free, so there is no chance that your little one might go under it and hurt himself/herself. Also, there is a 360-degree handle around the inside perimeter so kids can hold onto it while getting adapted to this trampoline. Also, it might help them build confidence in their ability to jump!
This one comes without springs, as springs pose a pinching hazard, so they come with bungee cords instead. The only downfall of this is that cords tend to break sooner than springs – usually in 3 years from my experience – but it still provides a lot of fun for all that time. It is also a little complicated to assemble, but not too much – the thing is that the instructions are not really good. Also, it's not meant to be disassembled.
It is a joyous 60″ source of fun for everybody on it. It is meant to serve as a trampoline for ages 3-7, but as the weight limit is the important factor here (100 pounds), as long as your kid fits into that category it will be fine and happy.
You might want to put more than one kid on this, but I wouldn't suggest that as the possibility for them getting hurt grows.
All in all, this is a great one, my kids enjoyed it, and it isn't expensive.
Click here to view Skywalker Round Seaside Adventure on Amazon!
2. Little Tikes 7′ Trampoline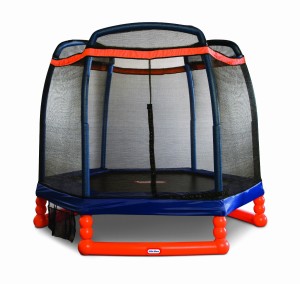 As the name implies, it is 7′ or 72″ in diameter, which is a really big surface to jump on for a kid. It is classified for 3-10 years old and it doesn't have the definite weight limit, so you can relax on this one.
My wife used to jump with one kid without any problem at all, although they never tried bringing in the other one – so I can't speak from experience how much can it handle actually. A kid and mom for sure.
It does come with a little bigger price tag and it sounds right actually – this is a serious trampoline.
There is a safety net up to the top so you don't have to worry about your kid falling off! Also, legs are curvier so the base of support is sturdier and stronger which allows everybody to jump higher.
This one operates on high-quality springs which are really greatly guarded by safety net and pads, so you won't have to worry about pinching a lot. However, I do suggest you look at the trampoline after you assemble it and figure if there is a gap of any sort where the springs can be seen and fill it with some foam just to ensure you're safe enough! Oh, and while we're at assembling – it is really, really easy! The parts that can be a little difficult are springs, but it just requires a little strength, nothing special.
Because it is big, I suggest you use it outdoors. I mean, all my trampolines are outdoor and have ever been, but the smaller ones you can bring inside if that is your preference.
So, to sum it up, this is a great choice, a little more expensive but it is a big and great source of fun for your children and you if you wish so.
Click here to view Little Tikes 7′ on Amazon!
If you'd like to leave a comment about my trampoline reviews or anything else, feel free to contact me here.