Losing weight isn't very pleasing for most people. It usually involves a special diet, a particular set of workouts and a change of general lifestyle if you want it to last. Then you see articles like "4 best foods to help you lose weight" or "6 best breakfast ideas" and a lot of theory pumped by the industry of weight loss – which is a multi-billion dollar industry. So why believe exactly everything there is out there?
Just to make it clear at the beginning, I'm not a certified coach or anything. I am, however, a fitness enthusiast. Everything I'm writing about here is from my own experience and about the results I got. That being said, the thing I do suggest is – you guessed it – trampoline workout.
But let's start from the beginning. From the point when you want to embark on a weight loss journey. What would you appreciate most for the change in your lifestyle? I wanted to get a good workout from the least amount of time, for the workouts to be fun and to apply some general eating habits (I never cared about "6 foods to blah blah").
So first, I started using beachbody products. Now, they are amazing, I can tell you that. I had one problem with them: they were too damn hard and time-consuming. Well, most of the more effective ones, anyway.
Then, after some more research, I got this: cardio workout in the morning will help boost your metabolism and will produce better weight loss than anything in the world. I started running in the morning. And then the knee started hurting. It was bad. This is the moment where a lot of people suggested me to switch to the bicycle. I love to bike, but that wasn't really my idea of an effective workout.
Finally, I realized I had to change my routine, and I got two things: kettlebells and workout trampolines. Why them? I wanted to try high-intensity power cardio for short periods of time and that's what they provide. I realized I don't need more than 10-15 minutes a day and I managed to keep it every other day.
Kettlebells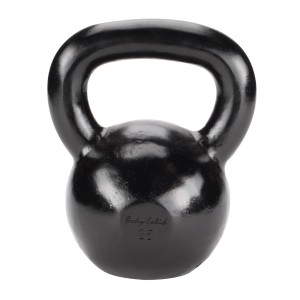 This website isn't about them and there are a lot of great resources about kettlebells on the web. I'll just want to mention this here: when I want a workout with them, I don't care about the fancy stuff – I simply do 100 "swings" and 5 "Turkish get-ups" on each side. After reading a lot of books on the subject, I realized that it is the most effective and most simple program there is, and it only takes about 15 minutes (well, it took me a little more in the beginning, about 25, but as you progress…). Also, I found out that if you don't really feel like it, you can simply do just swings. That is still really effective. And hey, this is really fun.
Since this is usually casted iron, that means they will probably feel untouched for a very long time – and will probably outlive you.
One more thing: please pay a lot of attention to the technique if you decide on working out with kettlebells. The technique can make a difference between losing weight and losing the spine.
If you want more information about this and about the workout, you can find it in a book called Simple and Sinister. You can click here to view it on Amazon.
Why would I include this on the trampoline website? Well, this is a weight loss page, and I wanted to serve you in the best way I could. It's simple. Hope I did.
Trampolines
Back on the topic. Losing some weight with trampolines? No problem. If you ever jumped on the big one, you'd probably realize how exhausting it can be to jump all over the place and do some crazy stuff. It really gets your heart pumping without you realizing it because its too fun to think about unpleasant things.
A lot of people saw this potential and wanted to make use of it, so the workouts were born. A lot of workouts with trampolines. And I'd wish I could tell you about the best workout there is, but there is a problem – there are no set moves that are considered "the best". You simply jump a lot and that is all. Hey, that's what makes it fun, right?
Now, I did find it helpful to follow some workouts in the beginning. You can do it on either the big trampoline if you have it, or you can buy a fitness trampoline for your home usage, just for fitness. I did both and everything has its own benefits. For example, fitness trampoline offers you a lot more control over your movement, so you can make your workout more effective and there is less chance of slacking off and just laying down there because it's too small to lay down there! And if you plan to make it a regular part of your workouts, please consider buying fitness one for another reason: it is so much more pleasant to jump on.
So, below is the video of one of the better trampoline workouts for weight loss, followed by reviews of fitness trampolines. Good luck with losing some serious weight this way with some good fun!
There are a lot of options to buy out there, some are cheap, some are not, but I never wanted to goof around with this. I heard a lot of stories about springs breaking, people hurting themselves really bad, assembly really bad, etc. So I found out one company which fits all of the criteria and I'm staying with it. That's why I recommend it as well. I'll review two versions and explain all the differences below.
1. JumpSport Fitness Trampoline Model 250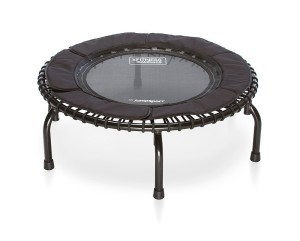 This is the cheaper, less-featured version. But it is still a great choice, of course. You can't go wrong with JumpSport!
As far as assembly goes, you just have to screw the legs in and that's all! You are ready to jump.
There are no springs here! Instead, JumpSport uses bungee cords to power up your trampoline, which is great: it feels better and it is safer! Even if one breaks (which can happen from usage, they are rated at 1 million cycles) you don't have to worry. You probably won't even notice it. It'll stay where it is and your jump won't be affected as there are a lot of other cords to hold you. And the cords make it so quiet…
It doesn't offer any adjustment for the firmness level which means that you jump as it is. It also has a 250-pound weight limit, so keep that in mind. A basic workout DVD is provided with this one, so you won't have to worry about that – they got you covered.
You get a great warranty with this and the customer service is amazing as well. Although it is so durable that you probably won't need to contact them at all!
The frame diameter is 39" and it is strictly speaking unfoldable. However, since it is so easy to assemble, you can disassemble it with ease as well, so you can put it under the bed if space is a problem for you.
Click here to view model 250 on Amazon!
2. JumpSport Fitness Trampoline Model 350 PRO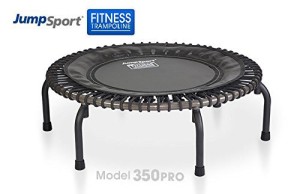 This is the more featured version. If you look carefully, there are a lot of "better" models (570 for example) but they don't offer that much more for the price, so I don't review them here.
This model has everything as the last one: bungee cords, 39", workout DVD, unfoldable, quiet… But the difference is huge! Why, you probably ask?
Well, first of all, this one supports up to 300 pounds. That is a big difference. Second, it offers 7 adjustments to firmness levels on the jumping mat. That way you can make better progress with more control and adjusting your level of fun.
The jumping surface is a little smaller. I know that is usually not the idea of "better" but for this type of trampolines, you don't really need big. You need control of the movements and that is what you're getting.
The cords are 4 times more durable, rated at 4 million cycles, which is actually amazing. That means you can jump 4 million times before some of it breaks down. That will usually come in about 4 years of regular usage, which is amazing for the trampoline.
Also, it comes with a better 4-in-1 DVD, so your workout needs are met. All of them.
As with the last one, since it is the same manufacturer, the warranty is great and customer service is outstanding! They truly are a wonderful company.
Well, those are all of the differences, and those differences are a little more expensive, but nothing to be afraid of.
Click here to view model 350 PRO on Amazon!
Bonus: handlebar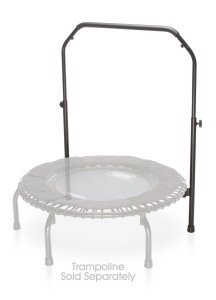 If you're an older person or you just need more balance, I recommend buying the handlebar for the fitness trampoline as well. It will help you increase your stability, aid with the training of the coordination of your movements (you can do more highly-controlled movements) and balance training (again, more control = better training).
This one I suggest fits both of the trampolines I reviewed here. If you decide on another trampoline, please search for the appropriate handlebar, as this probably won't fit your trampoline.
The assembly is really easy, so if you need to put it off for storage, it is really easy as well. It's just a couple of screws.
Click here to view the handlebar for JumpSport fitness trampolines on Amazon!
Have any suggestions for me or some comments on this page? Feel free to contact me anytime you want!