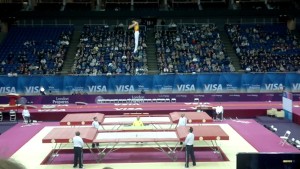 "But I'm a different kind. I'm looking for a way to get beyond fun and make this trampoline do something useful for me! I want to work out, to practice my front and back flips, to do all kinds of crazy gymnastic stuff." Is this something you can identify with?
If that sounds like you, you might be needing something more than just a regular, safe trampoline. Don't get me wrong, what I'm suggesting isn't necessarily unsafe, it's just more of a risk. But from the words above, I suppose you're a risk-taker, right? I know I was when I was a little younger. Since I became a father I'm a little more concerned for my safety as there are some responsibilities I have to take care of (read: kids) but back when I was a bachelor…
I did all sorts of crazy stuff. But for now, let's keep it relevant to the topic – I did gymnastics. And I wanted to practice at home. Now, it was an amateur thing, but I really wanted my flips to look great and to practice them I'd use a trampoline. And that is when I started thinking about a greater one. Olympic.
What are olympic trampolines? Essentially, it's big and rectangle. It usually comes without safety nets as a default, but there are some varieties, of course (more on that later). When I say "olympic", I mean olympic-sized – but the size is what matters when you feel really adventurous with your sports! Imagine the possibilities – you can jump not just in one place, but back and forth as well, do flips, half-flips, cartwheels, armless cartwheels… The possibilities are endless. Oh, and you can jump higher. Much, much higher, as you can see in the video below.
I'll be honest with you – these are a little pricey. Price usually comes with the term "professional". But that price is little compared to how much you can gain from it – if you're really committed to using it to its full potential.
The reviews of the trampolines I'll provide you with here are my best picks. If you have any questions or remarks, feel free to contact me!
1. JumpSport 10′ x 17′ with safety enclosure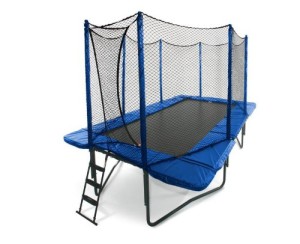 This is probably the greatest trampoline there is that is available for your backyard. Why is that? Let me tell you in a couple of sentences:
First of all, it has a massive 800 pounds weight limit, while limiting a jumper at 225 pounds! That means that if you want to train, you can jump as aggressively as you'd like and there is absolutely no risk that you can fall through or in any other way harm yourselves. That also means that you can bring your friends if you'd like and jump together. After all, it is 10′ x 17′ which is quite a bit. Really big.
Second, this one comes with an enclosure which is one of the highest quality on the market. The entry isn't through the zipper doors on the enclosure, but an overlapping entry – you just enter through the overlap and you're in, while at the same time you remain safe inside the trampoline.
Third of all, as big as it is, you probably won't even consider breaking it apart if you don't have to, which is why everything is made for outdoors usage: frame and steel springs are rust-resistant, mat and enclosure along with spring cover are UV resistant. I would suggest you buy some kind of cover just to make sure your trampoline lasts longer.
The jumping mat surface is 40 inches tall. Why is that important? Well, when you jump really hard, you won't hit the ground. It truly is engineered to last through all your hard jumps.
The mat is made out of 10 layered stitching, one of the highest quality on the market. Bear that in mind while choosing what you'll buy.
The package weight is about 250 pounds which is a lot. The instructions provided are pretty accurate and easy to follow. It should take around two hours with two persons to assemble it. And one more thing: you get a 10-year frame warranty, 5 years on the jumping mat… That is remarkable.
So what's the price? This great piece of engineering has a quite hefty price tag, to be honest. But for that price, you get one of the best on the market, gymnastic equipment, source of fun… What else could you ask for?
Click here to view JumpSport 10′ x 17′ on Amazon!
2. Happy Trampoline with Net Enclosure  10′ x 17′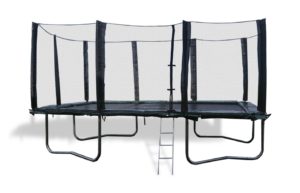 This is an all-American made one. The first thing you'll notice is that it comes with a safety enclosure as well as the ladder. It focuses on the quality of the jumping surface and the springs, which is why it can be qualified as olympic.
The springs (108 springs of Super heavy-duty) that are used are of bigger diameter (9" long, 33% longer than competitors) and higher quality than most of the competitors. What does that mean? Well, for starters, you're sure that you won't fall through. Second, the bounce you can get with this trampoline is BIG. I mean, it is really big. True olympic style. The Patented Stay-put enclosure net is made of tough, high-grade polyester mesh.  It has 4 legs heavy duty Stabilizer Frame that boasts a 3.0 mm thick "commercial grade quality" steel tubing galvanized inside and out.
But let's be clear on one thing: this is absolutely made for both experts and beginners. The jumping mat is 40 inches high, the bounce is great, there are enclosure set and the ladder. What else do you need?!
The weight limit is 550 pounds, which is to say that one person can be really aggressive, but you can jump for enjoyment as well. 
All of the materials used are made for outdoors usage. Everything is rust-resistant, or weather-resistant, or UV resistant, or everything of the above. I'd still cover it though, as it is quite expensive so just to be on the safe side. Assembling isn't really hard.
So this is a serious thing and not really a toy. But I know you'll enjoy it. How do I know that? Because I did. A lot.
Click here to view Happy Trampoline 10×17 on Amazon!