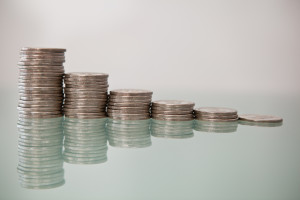 When it comes to luxury, sometimes you never really know where it can end. Usually, there are some brand names that will charge more just for the sake of the name, rather than the quality, leaving you with less money in the bank but not more quality in hand. Frustrating, isn't it?
In almost every field there are these "prestigious" items. The world of trampolines is no exception. But you don't want that. You want the best value for your money.
Now, I know that that doesn't make you cheap or whatever. It makes you smart – you want the best trade you can get. That's a very reasonable thing to ask.
And I think I'll be able to help you. I've looked far and wide for some of the best options out there. While I have some friends who buy the most expensive thing thinking that it surely must be the best thing, I'm willing to put up some time up front into research before I get into buying mode. That probably makes me qualified to talk about gaining the best value for your money, right?
I'll give you my personal recommendation for the best trampoline for the money you can find on the web. In fact, let's go with three – three is a really good number. That way you can choose the thing that fits your budget and not worries about its features – I've handled that for you already!
I reviewed three different sized trampolines, namely 10, 12 and 14ft, all of them under 300$ and the best on the market for that price. Of course, you probably need to sacrifice some features for the sake of price, but I'll mention all of the pros and cons so you can wage your best choice.
And one more thing: a lot of people I stumbled upon are saying that the best value you can for your money is the Skywalker 15ft trampoline. I personally disagree because of one simple thing: it has a really low weight limit, as low as their 10ft one. So avoid that or you'll jump right through it!
1. Pure Fun 14ft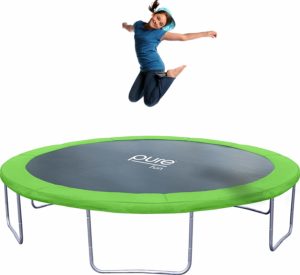 It is 14ft in diameter! The price tag is low! Talk about good value… Now, while it certainly is big, it comes without a safety net so you'll have to be careful (or, you know, just buy the net separately). It supports up to 350 pounds, which is really decent.
Now for the fun part: it has 96 rust-resistant steel springs and 6 U-Shaped legs which allow really good bounce and extra stability. Alas, some friends told me that they don't last that very long, so you might take that into account before deciding on this one. Also, it comes with a two-year warranty, so you won't need to worry about that one.
The padding over the springs is of good quality, so no pinching is possible. It comes with a weather-resistant mat, PVC frame cover, and thick foam rail padding. All of these add extra protection to jump safely.
The best thing is that it is really easy to assemble it – one of the easiest assemblies of all the trampolines I came across. It took my friend about 35 minutes for him and 13 years old son. And you won't need any extra tools as everything you need comes in a box. One box, although heavy, but not too much.
It is quite a good trampoline, especially for its money. If you want a bigger one but not to spend too much money (and they go up to $2000!) make this one your default choice. You won't be disappointed!
Click here to view Pure Fun 14ft on Amazon!
2. Skywalker 12ft with enclosure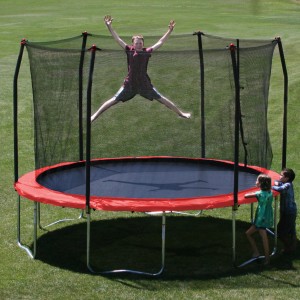 First of all, let's talk about the prime feature of all the Skywalker trampolines with enclosure: the enclosure is attached with patented buttonhole system, which provides for more safety because it attaches directly to the end of the mat, making it impossible to hit a spring and somehow pinch or hurt yourself. Also, it avoids ropes which most of the other enclosures use, which makes it even better – and neater.
All of the materials on this one are UV resistant, meaning you can leave outdoors, in the sun, and everything will last the way it should, without a lot of damage (I'd like to say without any damage, but it is still prone to weather conditions). Also, the frame and the springs (72 of them) are rust-resistant.
This one comes in a variety of colors: red, purple, green, black, blue… And price varies from color to color and that is just based on color (red one doesn't have anything extra compared to green one)! If you ask me, that's absurd, I'd just buy the cheapest one. After all, it will be in the backyard, so you don't need to match it with interior design and stuff.
Assembly tends to be complicated as with most of the trampolines. It isn't hard, it doesn't require muscle, but it is time-consuming. I suggest you make a buffer of a couple of hours and you have a helping hand; helping hand makes assembly so much easier.
It comes in two heavy boxes. The customer service of Skywalker is outstanding: they respond in no time at all and are willing to meet you halfway in everything, even offering things free of charge when you're out of warranty or it is your fault that something happened. We always had a wonderful time with them, and so did a lot of our friends and people on Amazon.
This one is really durable during winter and if you live in a harsh environment you might want to consider buying a trampoline cover, just to make sure it lasts a long time and for the years to come.
A really good looking trampoline, with a lot to offer. It gives the feeling of sturdiness and safety just by looking at it. Definitely a recommendation!
Click here to view Skywalker 12ft with enclosure on Amazon!
3. Skywalker 10ft with enclosure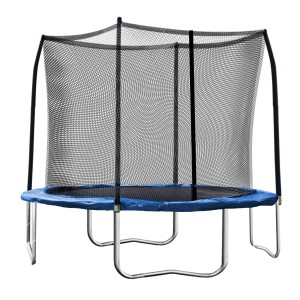 Now this one is smaller, but you will notice that it offers plenty of things. First of all, it is for 175 pounds max, but I tested it up to 200 pounds. So that's good. It is really solid and stable, sturdy looking.
This is Skywalker we're talking about, so a buttonhole method of connecting the enclosure to the jumping mat is present here as well. That makes it safer and safe is always good. It isn't really high, so you don't need to buy extra ladders to climb into this one.
UV resistant mat and enclosure, 64 rust-resistant springs and rust-resistant frame make it good for leaving it outside even when you're not using it and not have to worry about whether it will endure the winter or not. I still use a trampoline cover because I like to gain the best value I can for my money, but you need that only if you're in a place where you have harsh winters.
Assembly is not really good explained, and as the last one, I wouldn't classify it as hard, it doesn't require muscles, but it is time-consuming, so buffer a helping hand and a couple of hours.
I'd go for this one only if you are tight with space. If you have plenty of room, consider the other two as you can get more for your money. But all in all, this is a really good trampoline!
Click here to view Skywalker 10ft on Amazon!
Do you like my trampoline reviews? Feel free to tell me all you think of them at the contact me page!
Image credit: TaxCredits.net