So you want to talk about BIG fun, right? The sort where you can fit your whole family, cousins, neighbors, and colleagues? Okay, that may be too ambitious, I know, but I also know what you are actually wanting here. To have fun in the company. To make it not only your one or two kids enjoy everything they can do on the trampoline, but for the possibility to join, even invite friends.
That would be a hell of a family gathering. Imagine for a moment your whole family coming for Thanksgiving, messing around in the backyard, talking, having a beer, and at one point you decide you could just start doing something fun, something live, moving. You see that big blue circular thing you assembled in your backyard and you go straight at it. All of you. So there are 6 of you. So what? even though you're adults, you can all fit there. And have fun and enjoy your time to the fullest!
Or imagine having a kid's birthday party at your house. Imagine all the kids having their fun amplified by 1000 because your kid, the star of the school, has a big trampoline in his/her backyard.
While these are all viable scenarios, I don't know what yours will be. I know you can make your own stories. These were mine, when I felt really proud I made the investment and bought a trampoline for my backyard. What is your going to be? How will you use this possibility to its fullest?
I'll try and give you the reviews of the best big trampolines for adults I stumbled upon. As always, I'm giving you all of the pros and cons, so you can decide for yourselves. Feel free to contact me if you have any additional questions or remarks concerning my reviews!
1. JumpSport Elite 14ft with Enclosure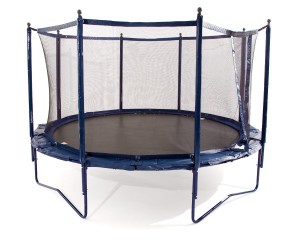 This one is a little pricey. It is the first trampoline I had to plan for months. But stay here with me because this thing changed my life completely!
Let's start with minor details: it comes in navy blue and black colors, looks very strong and sturdy. It has a UV resistant mat and enclosure, along with the strong, rust-resistant frame and rust-resistant springs. Okay, but a lot of trampolines have these; what's so special with this one, you might ask?
Well, would you mind me telling you that this has a 15 years warranty on its frame? I know that really caught my attention. I'm used to products which break a few days after the warranty expires. But for this one, even if it is the case, that still 15 years! And if you plan on using it that whole time and you try to finance yourself like a bank, you'll realize that then it'll cost you around 10$ a month, which is really insane!
Ok, but apart from that, this is the most amazing thing: it supports up to 800 pounds. What? You're excited as I am? 800 pounds at once! And they say no more than 240 per person. Ok, that is acceptable for me. But that means I can have my friends over for a party in the backyard!
Onward, it doesn't come with ladders, but I highly suggest you buy them as well. The enclosure is attached from the inside, so that makes it for better security. And you can have a really high bounce!
In fact, I have this one in my backyard. I used to practice my gymnastics moves on it. It is that spacious and that good. Try it for yourselves!
Oh, and one more thing – the assembly was really easy. The only thing that was something I considered carefully with this one was the price. If you can afford it, go for it! I promise you won't be disappointed!
Click here to view JumpSport elite 14ft on Amazon!
2. Skywalker 14ft square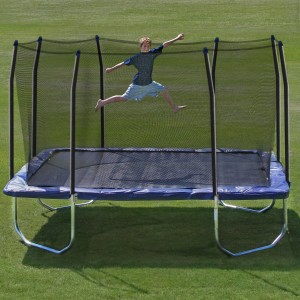 The next one on my plate for a review is Skywalker's 14ft square trampoline. Of course, it comes with the usual things: pad and enclosure, for your safety. As with any other Skywalker, the safety enclosure is attached via the buttonhole mechanism on the inside of the mat, so you won't be able to pinch yourselves on the springs in case a safety pad moves. This has another advantage: some of the enclosures use ropes to tie to the frame, which this clearly avoids. So that's a bonus.
It is made of steel, both frame, and springs, and all of them are rust resistant. Mat, enclosure, and safety pad are all UV resistant and all of this makes this trampoline very durable under outdoors conditions! This is a first square trampoline I reviewed and I must say that it looks dazzling to me, although it isn't olympic-like square (I mean its more of a rounded square), it looks way better than regular, round one.
My cousin has this and he says that it's ideal to practice flips on it. Also, he says that the enclosure is really good and that it can stop a fully grown adult from breaking through at full speed, which is marvelous.
It is easy to assemble, but the instructions are very unclear, so you might want to read them first, then proceed to assembling with somebody to help you (I suggest at least two people for the job).
It supports 250 pounds of weight at once, but you could probably stretch that to 300. Just be careful!
Also, I'd suggest buying some ladders, they can help with you getting on the mat.
This is a really good trampoline, with a lot of features, big jumping space, good bounce and quality safety features.
Click here to view Skywalker 14ft square on Amazon!
3. Pure Fun 15ft with Enclosure Set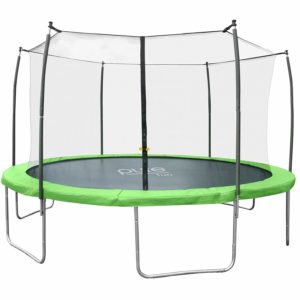 So, this one has 6 U-Shaped legs, which means your trampoline won't shake when you jump, rather it will stand firm and tall and you won't be able to tip it over.
Not only that it is safe when it stands, but it also comes with a safety enclosure that is made of UV-resistant mesh fabric with elastic net straps sewn in. This means that your kids can jump on the trampoline with their peers without worry about falling off.
As usual, the mat and safety pads are UV resistant, frame and springs (108 springs! WOW) are rust resistant, so it is durable and made for outdoor use. Also, as its name implies, it is 15ft in diameter.
Now, the advantage of this trampoline is that the enclosure entrance is designed with a secure zipper and buckle so it can be perfect for beginners.  Also, since it provides a very, very good bounce you can jump really high on this one, trust me. And since there are a good bounce and safety net, it makes a good basis for learning new things – if that is your goal, that is.
Now, it comes with a 350 pounds max weight on it, but my neighbors say that it can hold up to 400 pounds. You can trust them, they had this one for quite some time. Oh, while we're at it, it is that durable.
Assembly is easy, instructions are really clear and as with others: you'd probably want to buffer a couple of hours and arrange for a helping hand because this is definitely a two-person job.
Click here to view Pure Fun 15ft on Amazon!
4. Skywalker 17ft oval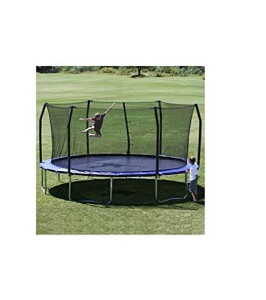 This is the biggest trampoline I'm making a review of, with the exception of olympic ones – but they are a completely different category. So, 17ft. Exciting, isn't it? Actually, since it's oval, it's actual dimensions are 17ft by 15ft.
Now, this is a strange trampoline. Since it's big, they probably couldn't make it really "weight-resistant", so to speak. Its weight limit is 200 pounds and I wouldn't go more than that. That makes it the greatest personal toy available, but it is almost impossible to have more than two persons on at the same time. That makes me sad when you have something this big.
But it can still be a great thing! It comes in a variety of colors and has some of the usual features: UV resistant mat, enclosure, and safety pad, rust-resistant frame, and springs which makes it ideal for outdoor usage (and where else would you fit a 17x15ft ?!). The enclosure is attached by a buttonhole patent directly to the edge of the mat, which makes it safe and avoids the usage of ropes some enclosures use.
One really neat feature is the anti-slipping mat. It is made of a somewhat different material than all the other mats, so you can really rely on its safety measures and know you won't be able to get hurt if you specifically don't try to.
If you take care of it, it can last really long, so I suggest buying the cover for winter.
As for the assembly, the instructions are pretty weak. I don't know how they missed it so much, but they are actually sending generic instructions for round trampolines and oval is really different. So be careful, read it carefully, notice where you need to change something and proceed slowly. A friend of mine said it took him 6 hours for him and his son and that they made a mistake halfway which made them go back all the way as they didn't notice the mistake soon enough.
If the size is what you're after and you're not planning on getting a lot of o people in your backyard, this one might be ideal for you.
Click here to view Skywalker 17ft oval on Amazon!