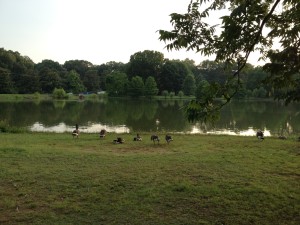 Another typical dimension people search for is 12ft in diameter. Maybe it's a matter of not wanting to give more space to your trampoline, maybe you just want to limit the danger your kids (or you) could possibly experience or maybe it is because of something else I haven't thought of, but one thing is for certain and that is that you want to buy a 12ft trampoline. And you want the best one!
So you tried searching for some reviews and some picks and you stumbled upon this page. Well, you're at the right place! That is why I narrowed down your choice to the three very best and whatever you choose from this list, you won't be disappointed!
The thing that is general for all of the below is that they all have exactly 72 springs and that they are suggested for outdoor usage.
I'll make sure to present only the ones that are exactly 12ft in diameter here so as to respect your choice. If you want something bigger you can click here, and for smaller ones you can look for in the menu.
As always, feel free to drop any comments in the contact me section.
Enjoy my reviews of the best 12ft trampolines and I hope that they are to your liking.
1. Upper Bounce 12ft with enclosure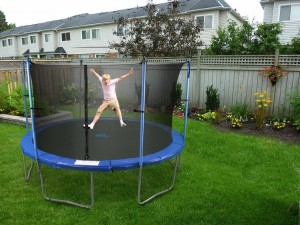 Upper Bounce has trampolines from 7.5 to 16ft, all under the same name, and it's just a matter of size. That is good because you know that what you're getting is persistent across sizes – and what you get is actually great!
So, let's start with basics: rust-resistant frame and rust-resistant steel springs along with UV resistant mat, safety enclosure and safety pad make this one qualified for outdoor use for longer periods of time, while at the same time looking and feeling almost as new.
The safety pad has double rubber ties which makes it even safer to jump on, while at the same time holding really tight to springs, so there is practically no possibility of pinching. Jumping mat has 8-row stitching which in principle is to say to you that it is more durable than the others.
The manufacturer declares it for 330 pounds max weight and I think that it is really great as I have reviewed some bigger ones that had lower weight limits. This means that you could jump with your kids with no problem at all. That's quality for you right there.
A little remark: safety enclosure tends to break easily so you'd want to watch out for that. Upper Bounce has the replacement one ready to buy, or you could buy an enclosure from another manufacturer (I talk about it here) if it comes to that. Also, the good thing about the enclosure is that it connects directly to the jumping mat, so while it is functional, it is doing a really good job of protecting you from falling down.
You can jump really high on this one, so beware of that – I wouldn't suggest it for the absolute beginners. But the thrill you gain from it is amazing. Assembly of this one is really easy. You won't be disappointed!
Click here to view Upper Bounce 12ft on Amazon!
2. ExacMe 12ft with enclosure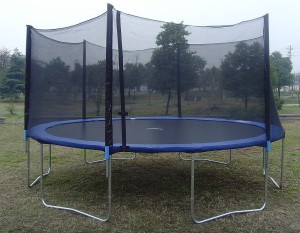 As with the last one, this also has a rust-resistant frame and springs along with the UV resistant enclosure, mat and pads, so it's made for outdoor usage. That doesn't mean you can't bring it inside, of course, but that it can last long on the outside. It holds out for years – actually, it is one of the sturdiest trampolines out there.
There are 6 legs here with 12 balance points which add to improved stability so you can brag that your trampoline never even shook, let alone tipped over (some low-quality ones can do that, trust me).
It isn't really tall, but it isn't short either, which is why you get a ladder included here, so your kids can hop onto it easier (manufacturers usually don't ship trampoline with ladders so that's $30 right there).
The weight limit is 280 pounds by the manufacturer and it is really true, don't go over it. But it still means you can hop on with your kids or with a friend. That's a good thing.
The bounce is really good and really thrilling, so the fun part is covered for you!
The enclosure is attached to the whole poles, not just on certain points, which make it stronger, safer and better overall. It is of really good quality as you might see. It is connected on the outside of the spring cover, which some say is less safe because there is a possibility of pinching on the springs. Spring cover got it covered though!
ExacMe 12ft comes in 3 boxes, is easy to assemble but I'd suggest buffering a couple of hours. Also, this is a two-person job, so you'd probably like to recruit a helping hand.
A good jump, sturdy trampoline, great enclosure… So you've got fun and safety covered. The price tag is not really big. What else do you need?
Click here to view ExacMe 12ft on Amazon!
3. Skywalker 12ft with enclosure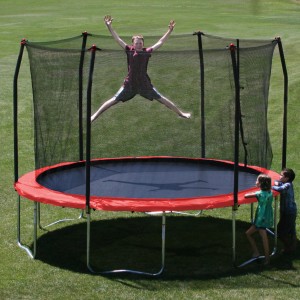 First of all, let's talk about the prime feature of all the Skywalker trampolines with enclosure: the enclosure is attached with patented buttonhole system, which provides for more safety because it attaches directly to the end of the mat, making it impossible to hit a spring and somehow pinch or hurt yourself. Also, it avoids ropes which most of the other enclosures use, which makes it even better – and neater.
All of the materials on this one are UV resistant, meaning you can leave outdoors, in the sun, and everything will last the way it should, without a lot of damage (I'd like to say without any damage, but it is still prone to weather conditions). Also, the frame and the springs (72 of them) are rust-resistant.
This one comes in a variety of colors: red, purple, green, black, blue… And price varies from color to color and it is just based on color (nothing extra in red one that the green one doesn't have)! If you ask me, that's absurd, I'd just buy the cheapest one. After all, it will be in the backyard, so you don't need to match it with interior design and stuff.
Assembly tends to be complicated as with most of the trampolines. It isn't hard, it doesn't require muscle, but it is time-consuming. I suggest you make a buffer of a couple of hours and you have a helping hand; helping hand makes assembly so much easier.
It comes in two heavy boxes. The customer service of Skywalker is outstanding: they respond in no time at all and are willing to meet you halfway in everything, even offering things free of charge when you're out of warranty or it is your fault that something happened. We always had a wonderful time with them, and so did a lot of our friends and people on Amazon.
This one is really durable during winter and if you live in a harsh environment you might want to consider buying a trampoline cover, just to make sure it lasts a long time and for the years to come.
A really good looking trampoline, with a lot to offer. It gives the feeling of sturdiness and safety just by looking at it. Definitely a recommendation!
Click here to view Skywalker 12ft with enclosure on Amazon!